Practice of Standard Precautions among Health Care Workers in the Blood Bank at Maitiga Hospital, Tripoli, Libya
Keywords:
Health care workers; Blood bank; standard precautions; infection control; safe blood supply; blood-borne infections
Abstract
Background and aims. Healthcare quality is greatly influenced by infection prevention practices and control. Since there are few previous studies from Libya evaluated the infection control practices in the blood banks of Libya. This study was aimed to assess the practice of standard precautions among health care workers (HCWs) in the blood bank at Maitiga hospital, Tripoli, Libya. Methods. A descriptive cross-sectional study was conducted from March to April 2022 at the blood bank of Maitiga hospital. A self-administered questionnaire assessing the practice of standard precautions was used to collect the data and analysis was done by using SPSS version 20. Results. A total of 61 respondents out of 110 HCWs at Maitiga blood bank were enrolled in this study. The respondents were doctors, nurses and laboratory technicians of which 15(24.6%) were males and 46(75.4 %) were females. The main age group of the participants was 25 - 29 years. All medical staff who participated in current study were applied hand hygiene after finishing and were used safety box to dispose the sharp objects. Only 11(18%) of them applied hand hygiene before start working, 45(73.8 %) of them cleaned surfaces before and after work, 53 (86.9%) wear appropriate personal protective equipment (PPE), and 36(59 %) know how to separate the medical wastes. On the other hand, 18(29.5 %) of medical staff eat or drink at work area. Conclusion. In general, practice of standard precautions was good among HCWs at Maitiga blood bank. Most of the HCWs prefer to use hand hygiene after work, use of personal protective equipment, safe use and disposal of sharps, and routine environmental cleaning. However, practice of waste management was not satisfied.
Cite this article. Jerbi R, Saleh Z, Skander M, Alwaseea N, Ahmed F, Alaqeli E, Ben Ashur A, El Magrahi H, Mousa A, Atia A, Abuagela M, Abdulwahed E. Practice of Standard Precautions among Health Care Workers in the Blood Bank at Maitiga Hospital, Tripoli, Libya. Alq J Med App Sci. 2022;5(2):534-537. https://doi.org/10.5281/zenodo.7313344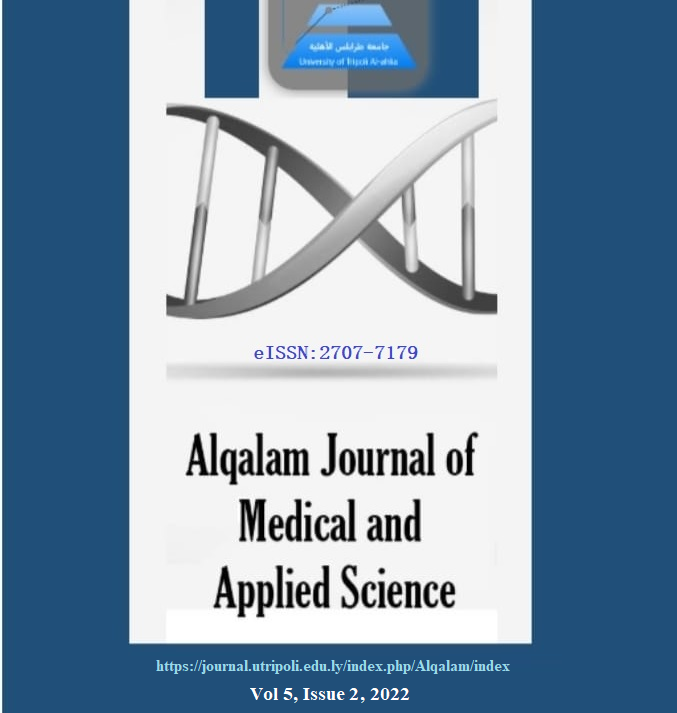 Downloads
How to Cite
Rehab Jerbi, Saleh, Z., Mayson Skander, Najia Alwaseea, Fawzia Ahmed, Eman Alaqeli, Abir Ben Ashur, Hamida El Magrahi, Arij Mousa, Ahmed Atia, Manal Abuagela, & Eman Abdulwahed. (2022). Practice of Standard Precautions among Health Care Workers in the Blood Bank at Maitiga Hospital, Tripoli, Libya. AlQalam Journal of Medical and Applied Sciences, 5(2), 534–537. Retrieved from https://journal.utripoli.edu.ly/index.php/Alqalam/article/view/192