Impact of Placenta Previa on Maternal and Neonatal Outcome
Keywords:
Placenta Previa, Caesarean Section, Risk factors, Types of placenta
Abstract
Background and aims. Placenta previa is one of the major disorders occurs during pregnancy, when placental tissue is abnormally placed in lower uterine segment over or near the internal cervical os. The greatest risk of placenta previa is bleeding. Bleeding often occurs in the lower part of the uterus as it begins to stretch and lengthen in preparation of delivery. The aim of this study was to determine the maternal and neonatal outcome of different types of placenta previa and associated risk factors. Methods. This was a retrospective study conducted at Aljala maternity hospital of Tripoli, Libya. Hospital chart records of one year (1st January to 31st December 2019). Chart records included all women who had undergone cesarean section for placenta previa. Results. During the study period, there were 92 cases of cesarean sections done for placenta previa, which was (0.95 %) of total deliveries, (43.47%) had type III PP, (26.08%) had type IV PP, (16.30%) had type II PP, (14.12%) had type I PP, (43.47%) delivered by emergency c/s, and (56.60%) delivered by elective c/s. Majority of women were in age group (30-35) years (41.30%). About (57.60%) of the patient were multipara (1-3 deliveries), (88.04%) patients had history of cesarean section, and (31.52%) patients had history of evacuation and curettage procedure (E&C). Approximately (38.04%) of babies were preterm, (25%) were low birth weight babies, (3.26%) neonatal death, (23.19%) of babies had NICU admission, (75%) of patients had blood transfusion, (21.73%) of patients had hysterectomy, and (34.78%) of patients had ICU admission. Conclusion. Placenta previa danger to both the mother and the baby with high maternal morbidity and adverse perinatal outcome. Advanced maternal age, multiparity, and previous histories of cesarean section and E&C were significantly associated risk factors of placenta previa.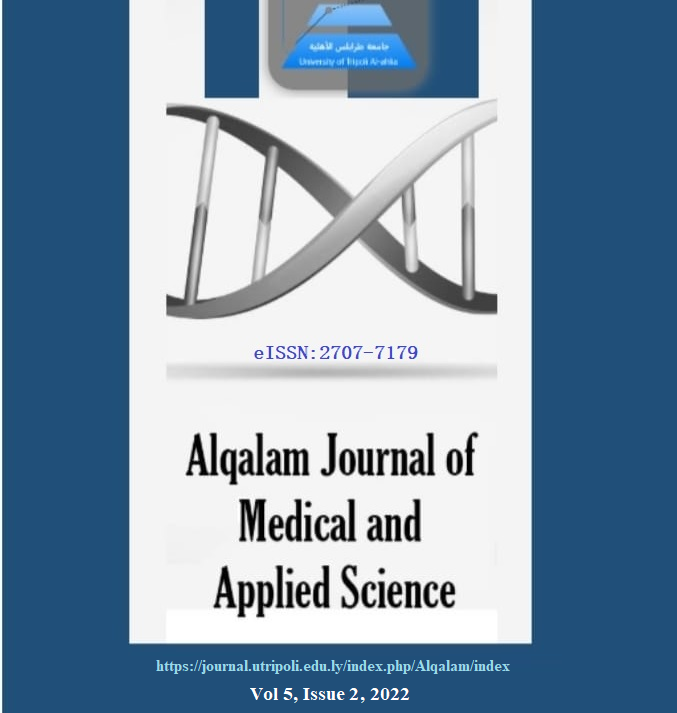 Downloads
How to Cite
Nourryah Turkuman, Laila Almahdi, Huda Othman, Abdulrahman Alsharef, Zeinab Saleh, & Rehab Jerbi. (2022). Impact of Placenta Previa on Maternal and Neonatal Outcome. AlQalam Journal of Medical and Applied Sciences, 5(2), 429–437. Retrieved from https://journal.utripoli.edu.ly/index.php/Alqalam/article/view/173