Association Between Some Inflammatory Markers and HbA1c in Patients with Type 2 Diabetes Mellitus
Keywords:
Type 2 Diabetes Mellitus, HbA1c, CRP, ESR, WBC
Abstract
Background and aims. Patients with type 2 diabetes exhibit subclinical inflammation and nearly all signs of systemic inflammation, which characterized by high circulating levels of inflammatory parameters. The current study aimed to assess the levels of the inflammatory markers such as, C-reactive protein (CRP), Erythrocyte sedimentation rate (ESR) and leukocyte counts (WBC) count in patients with T2DM and to correlate their values with the HbA1c levels. Methods. This cross-sectional study was conducted on 41 consecutive patients with type 2 diabetes attending the outpatient department of Tajoura-Heart Hospital. All patients were had laboratory investigations including; Hemoglobin A1c (HbA1C), C-reactive protein(CRP), Complete blood count(CBC) and Erythrocyte sedimentation rate (ESR). Patients were assessed according to glycemic status, patients with under control of diabetics (HbA1C level was equal to or less than 7.5%), and patients with poorly controlled diabetics (HbA1c level was greater than 7.5%). Results. Statistically significant association was observed between ESR, CRP levels and level of HbA1c. The ESR and CRP level were significantly higher in poorly-controlled diabetic patient than who with well controlled diabetics (p value= 0.037 and 0.017 respectively). WBC levels were higher in patients with poorly controlled than well controlled patients but the difference was not statistically significant (p value= 0.771). Conclusion. Inflammation and glycemic control have a strong association in patients with type 2 diabetes, suggesting that inflammation plays a role in diabetes pathogenesis.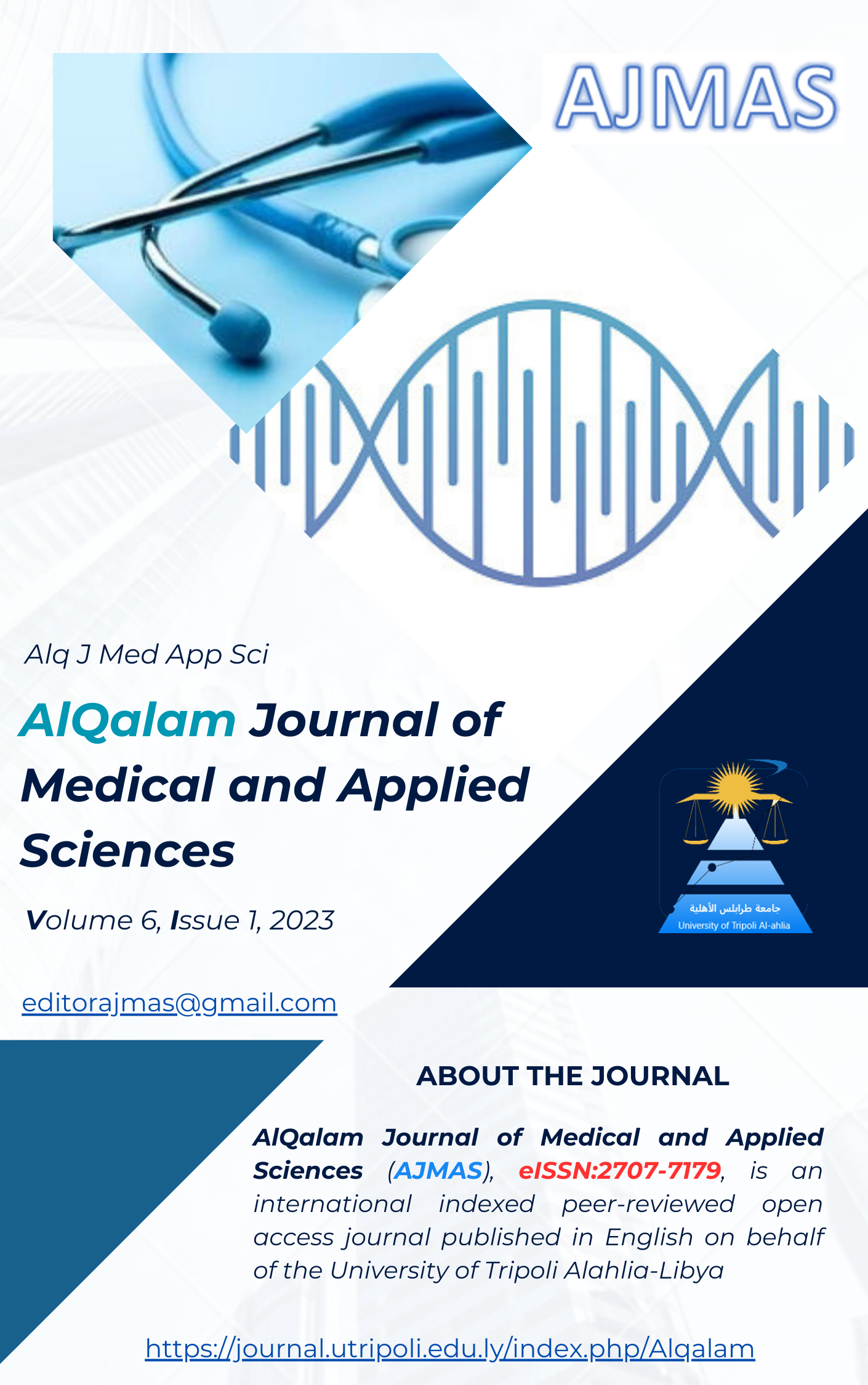 Downloads
How to Cite
Khaled Elbaruni, Eman Abdulwahed, Wesal Khalfalla, Retaj Alsudany, Rehab Jerbi, Najia Alwaseea, Fawzia Ahmed, Eman Alaqeli, Abir Ben Ashur, Hamida El Magrah, Arij Mousa, Atia, A., & Manal Abuagela. (2023). Association Between Some Inflammatory Markers and HbA1c in Patients with Type 2 Diabetes Mellitus. AlQalam Journal of Medical and Applied Sciences, 137–141. Retrieved from https://journal.utripoli.edu.ly/index.php/Alqalam/article/view/230