The Prevalence of Prediabetes Phase and Associated Risk Factors in A Sample of the Non-Diabetic Population in Al- Bayda City, Libya: A Cross-Sectional Study
Keywords:
Prediabetes; Risk Factors; Prevalence; HbA1C
Abstract
Aims: This study was aimed to determine the prevalence of prediabetes in Al-Bayda city and to identify their associated factors. Methods. A cross-sectional study was carried out over a period of 4 months with a sample of 300 participants aged 18-45 years who were asked about weight, height, smoking, lifestyle, family history, current illness, and if they met the inclusion and exclusion criteria. Blood samples were collected from all participants in the study and analyzed for measuring HBA1c.The statistical analysis was performed by using the Statistical Package for social sciences SPSS version 26 (IBM SPSS Statistics-26) by using Regression linear and logistic regression analysis. Results. The prevalence of pre-diabetes in our study was (47.0%). The prevalence of prediabetes during the age group of (30-39) was the higher one, which was (40.3%) and there was a significant association with prediabetes (p=0.031). There was also a significant link between smokers (90 individuals, 30.0%) and prediabetes (p=0.037). When assessing the effect of gender on the risk of prediabetes, we found a significant association between the BMI and female participants (p=0.047). The normal subject will be at risk of developing prediabetes in the prediabetic phase, where is found the association between the age group (40-49 years), BMI, Family history, Neuropathy, Retinopathy and risk of prediabetes. Conclusion. In Al Bayda-Libya, the prevalence of prediabetes is high. this result indicates that Al Bayda will face a high incidence of diabetes soon, which will create a heavy economic burden on healthcare. Age and smoking, especially in men, and BMI in women were the major risk factors. People with normal HbA1C are also at risk of prediabetes who are older, smokers, or have high BMI, positive family history, or have retinopathy or neuropathy complications. Health education should be strengthened to diminish the incidence of new cases of diabetes.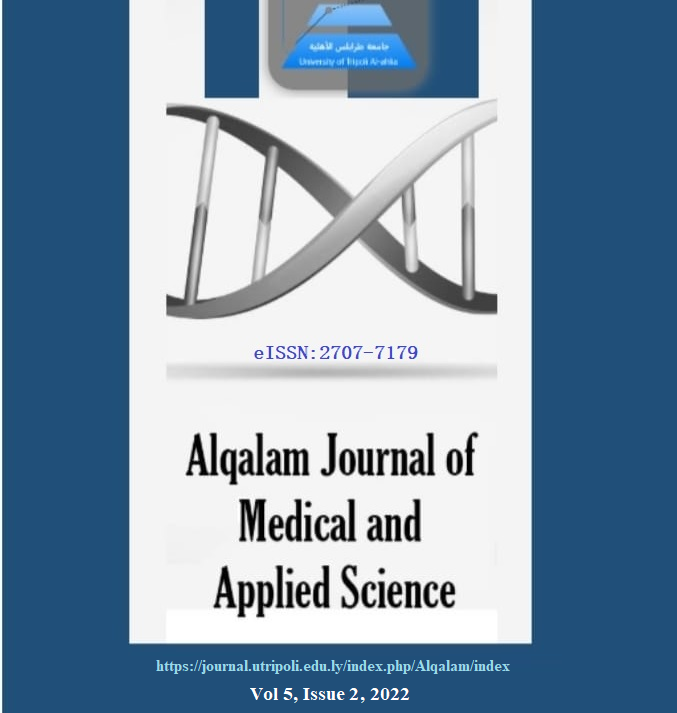 Downloads
How to Cite
Amal Atair, Muna Mohamed, Nissren Magid, & Mahmoud Aeteer. (2022). The Prevalence of Prediabetes Phase and Associated Risk Factors in A Sample of the Non-Diabetic Population in Al- Bayda City, Libya: A Cross-Sectional Study . AlQalam Journal of Medical and Applied Sciences, 5(2), 338–345. Retrieved from https://journal.utripoli.edu.ly/index.php/Alqalam/article/view/161