Protective Effect of Zingiber Officinale Against Di-(2-Ethylhexyl) Phthalate (DEHP) Induced Histological Effect in Testes of Adult Male Rabbits
Keywords:
Zingiber Officinale, Phthalates (DEHP), Histological Study, Testosterone
Abstract
Aims. DEHP stands for di-(2-ethylhexyl) phthalate, a family of man-made chemical compounds that have been used in the development of plastics, solvents, and personal care products throughout the last century. Ginger (Zingiber officinale) is known to play diverse biological roles including anti-oxidation, anti-inflammation, hypo-lipidemia, anti-carcinogenesis, a protective role against male reproductive dysfunction, anti-nausea, anti-thrombosis, and anti-bacterial process. The purpose of this study was to see if Zingiber officinale ethanolic extract has any anti-oxidant activity against DEHP-induced damage to the male reproductive system of adult rabbits. Methods. Twenty male New Zealand white rabbits were randomly divided into four groups; first group was a control group were receiving corn oil; second group: rabbits were treated with Zingiber officinale alone; third group: rabbits were treated with DEHP; fourth group: rabbits were giving DEHP and Zingiber officinale. Results. The histological structure of these treated rabbits showed that the accumulation of spermatogenic and ledig cells was increased and the lumen of the seminiferous tubules was fully packed with sperms in the group 4 compared to group 3. Conclusion. Zingiber officinale has a protective nutraceutical capacity to help overcome DEHP-induced histological damage in testing.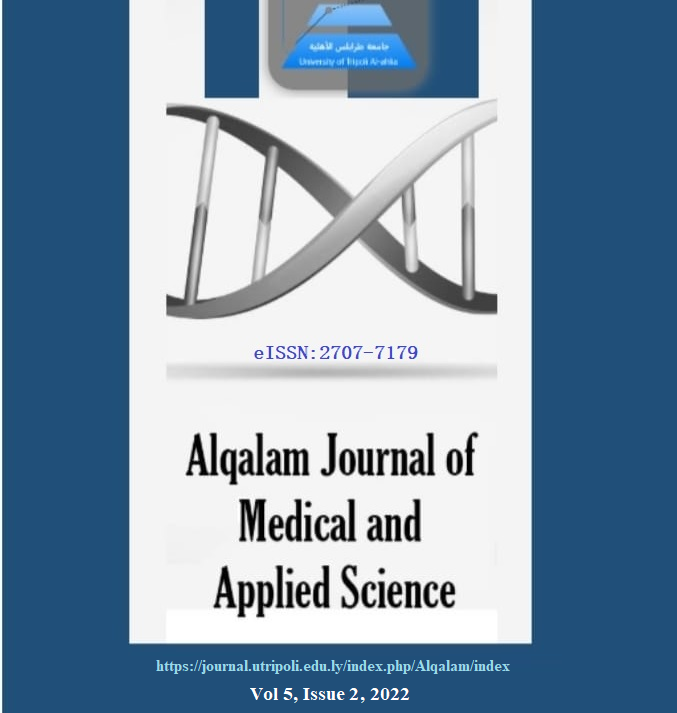 Downloads
How to Cite
Fayourz Kahald, Hanan Moftah, Fahima Abdelsalam, Ensaf Abdalwahed, & Marfoua Ali. (2022). Protective Effect of Zingiber Officinale Against Di-(2-Ethylhexyl) Phthalate (DEHP) Induced Histological Effect in Testes of Adult Male Rabbits. AlQalam Journal of Medical and Applied Sciences, 5(2), 321–328. Retrieved from https://journal.utripoli.edu.ly/index.php/Alqalam/article/view/155