Study the Effect of High HbA1 Levels on Kidney and Liver Function
Keywords:
High HbA1 Patients, Diabetes, Kidney Functions, Bilirubin, Glutamic, Alkaline
Abstract
Background and aims. Diabetes is a lifelong disease. It is necessary to understand the comorbidities that can be associated with high blood sugar levels. This study was aimed to assess the effect of high HbA1 (hemoglobin subunit alpha 1) on liver and kidney functions in diabetic patients in Al-Jabal Al-Akhdar - Libya. Methods. Blood samples from 18 patients with high HbA1 and 37 with normal values of HbA1 for residents of Al-Jabal Al-Akhdar in the laboratories in Al-Bayda city/Libya were analyzed, during the period from January to December 2022. The levels of liver, kidney functions and HbA1was analyzed using kits and tests were estimated by a kit method in spectrophotometer. Results. The results showed that the first group of subjects without cumulative diabetes confirmed no significant differences compared to the second group of diabetic patients who had high results for HbA1. There were significant differences in the level of glutamic Oxaloacetic transaminase enzyme for the first group, compared to the second group. Conclusion. HbA1 should only be assessed in conjunction with fasting plasma, post-meal glucose, liver and kidney function tests for accurate monitoring of diabetes patients' long-term glycemic management.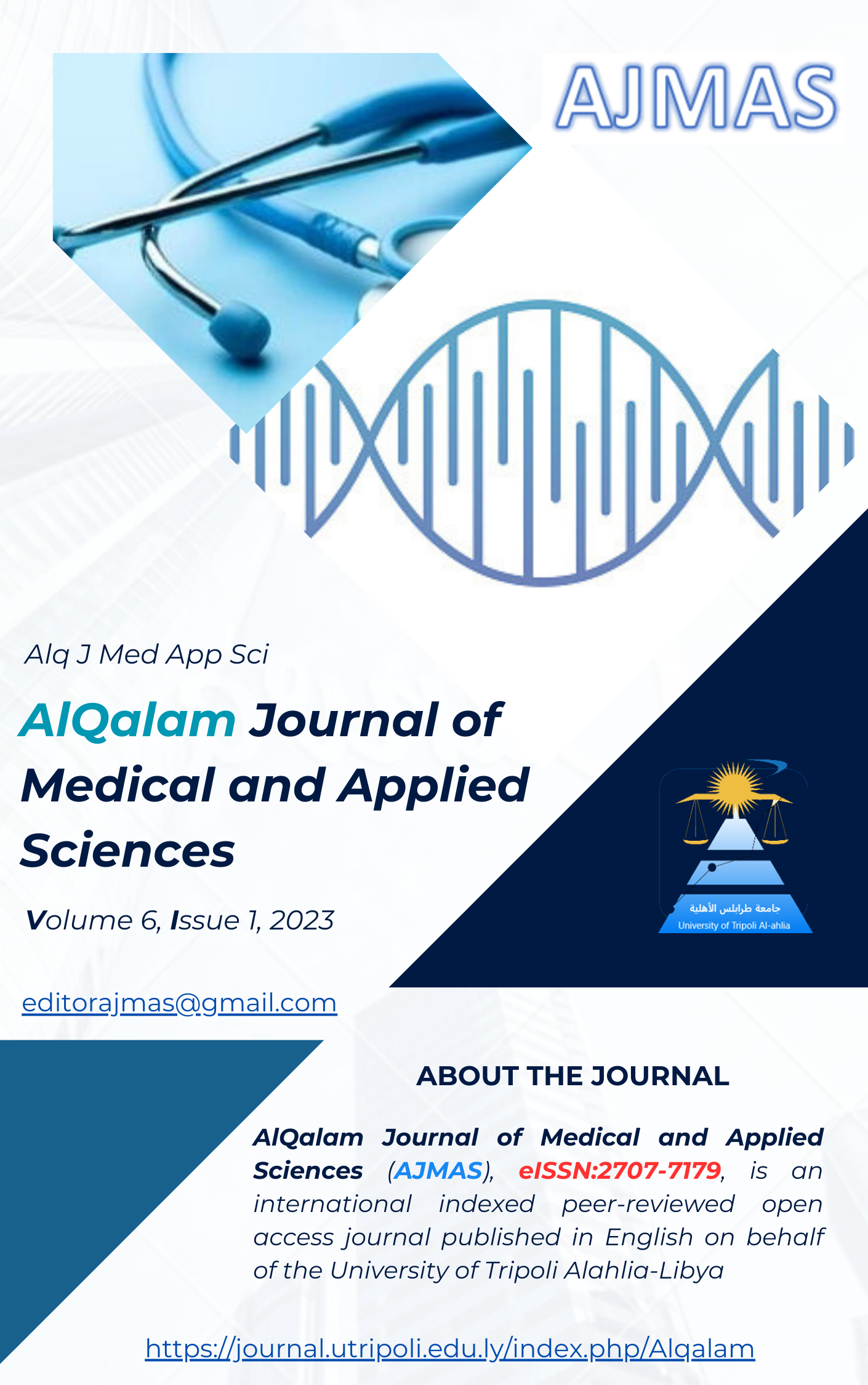 Downloads
How to Cite
El-Mahdi Mohamed, Hanan Moftah, Alnagy Mohammed, & Marfoua Ali. (2023). Study the Effect of High HbA1 Levels on Kidney and Liver Function. AlQalam Journal of Medical and Applied Sciences, 182–185. Retrieved from https://journal.utripoli.edu.ly/index.php/Alqalam/article/view/234