Retrospective Histopathological Study of Breast Biopsies of Breast Lesions among Patients Attending Al-Bayda Medical Center
Keywords:
Benign Breast Neoplasms, Fibroadenoma, Malignant Breast Lesions, Invasive Ductal Carcinoma
Abstract
Background and aims. Histological tissue diagnosis of breast lumps plays an important role in patient management. This study was aimed to analyze the histopathological spectrum of various breast lesions with the distribution of breast diseases in different age groups and gender from breast's lesions among patients attending to Al-Bayda medical Center. Methods. Retrospective study was performed in the department of pathology over a period of three years from August 2018 to December 2020. During this period a total of 186 breast specimens were received at department of pathology. Histopathological examination of specimens was done to know the spectrum of breast lesions. Results. Out of 186 cases, (182 cases with 97.79%) were female and (4 cases with 2.21%) were male. The patients' ages ranged from 19 years to 80 years, and the majority of the cases was unilateral lesions with 95.7% that much more common than bilateral lesions. Upon position of lesion, 101 cases with 54.30% at right, 77 cases with 41.40% at left side and 8 cases with 4.30% were bilateral. Overall breast lesions, 74.19% of cases were benign (proliferative and inflammatory) and 25.81% were malignant neoplasms. Among the 138 cases of benign breast neoplasms 34.78% of them were fibroadenoma which the most common benign breast lesion. While, out of 48 malignant breast lesions, 62.50% of them were be invasive ductal carcinoma that the most common malignant breast lesions. 74.19% of breast lesions were benign breast lesions, proving to be the majority in incidence. 25.81% of lesions were malignant breast lesions. Conclusion. Benign lesions were common in second to fourth decade and malignancy in fifth and sixth decades.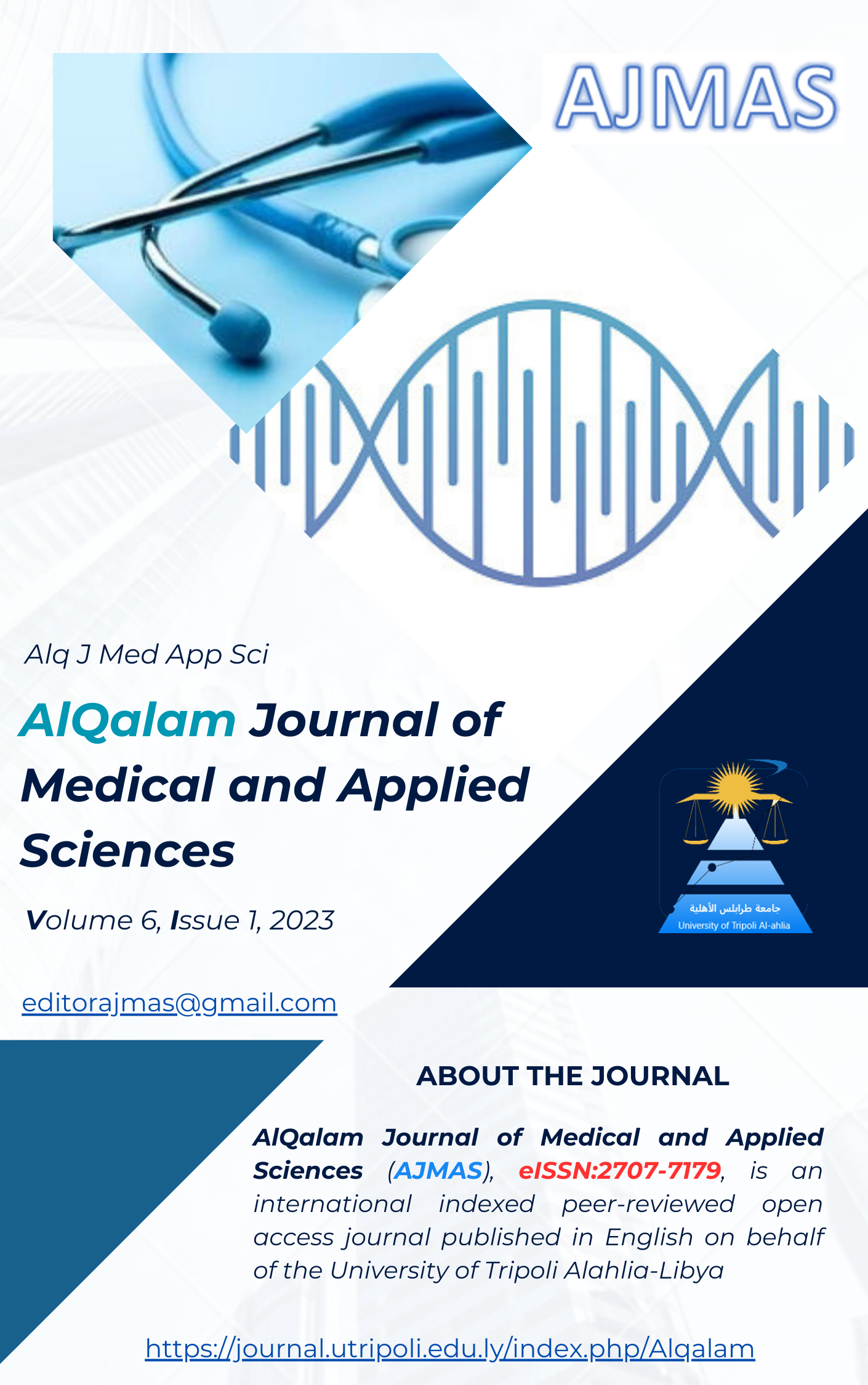 Downloads
How to Cite
Raba Abdalkarem, Huda Abdallah, Asma Abdalraziq, Marfoua Ali, Allafi Allafi, & Almontaser Ali. (2023). Retrospective Histopathological Study of Breast Biopsies of Breast Lesions among Patients Attending Al-Bayda Medical Center. AlQalam Journal of Medical and Applied Sciences, 212–218. Retrieved from https://journal.utripoli.edu.ly/index.php/Alqalam/article/view/238