Protective Role of Selenium against Diclofenac Sodium Induced Hepatotoxicity in Female Rats
Abstract
Background and aims. Selenium is an essential trace mineral found in soil, water, and some foods. It increases antioxidant effects in the body. Diclofenac sodium is one of the world's most commonly prescribed non-steroidal anti-inflammatory drugs (NSAIDs). This study aimed to evaluate the histological changes induced by diclofenac sodium on the liver of adult female rat and evaluating the possible ameliorative role of selenium. Methods. Healthy female rat 4-month-old weighting 140-235g were divided equally into four groups. The first group was received only distilled water and considered as control group. The second group animals were received selenium at a dose of 0.25 mg/kg b/w by oral gavage daily for 21 days. Third group were receiving diclofenac sodium at dose of 10mg/kg b/w by oral gavage daily for 14 days. The fourth group contains animals given same dose of selenium for 7 days, during the next two weeks, animals given same dose of diclofenac sodium. Results. Histological examinations revealed that administration of diclofenac sodium only caused congestion of the central vein and granular degeneration of hepatocytes with granular cytoplasm around central vein hemorrhage in hepatocyte cells. In contrast, administration of selenium along with diclofenac sodium induced the protective role of selenium against diclofenac sodium, ameliorating the change in hepatic tissue of the diclofenac sodium-intoxicated rat. Conclusion. Selenium can hinder the progression and severity of liver injury during acute inflammatory episodes.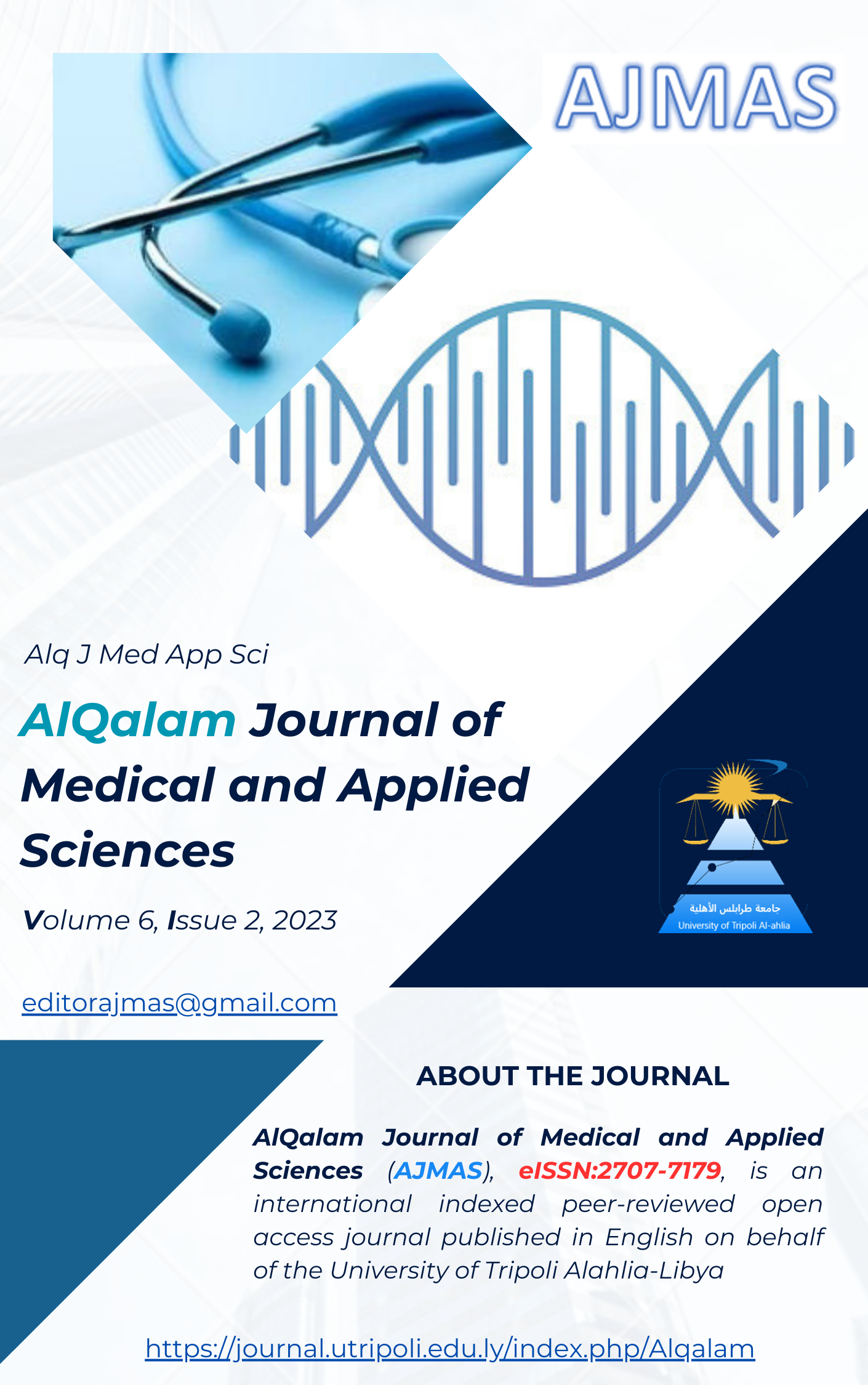 Downloads
How to Cite
Samah Khalifa, Ensaf Abdalwahed, Marfoua Ali, Nura Al-Zail, & Salema Elwiegha. (2023). Protective Role of Selenium against Diclofenac Sodium Induced Hepatotoxicity in Female Rats. AlQalam Journal of Medical and Applied Sciences, 567–574. Retrieved from https://journal.utripoli.edu.ly/index.php/Alqalam/article/view/359
License
This work is licensed under a Creative Commons Attribution-NonCommercial 4.0 International License.