Factors Associated with Non -Adherence to Antidiabetic Medications among Patients with Type 2 DM in Al-Bayda- Libya
Keywords:
Adherence, Type 2 Diabetes Medications, Libya.
Abstract
Aim. This study was aimed to assess the level of medications adherence and to identify factors that are associated with non-adherence to anti- diabetic medications among patients with type 2 diabetes mellitus in Al-Bayda-Libya. Methods. A cross-sectional study was conducted from April to August 2022 at Diabetes Center Aljabal Al-akhdar in Al-Bayda, Libya. A total of 300 patients with type 2 diabetes mellitus. Adherence was measured by using the Medication Compliance Questionnaire. Other data, such as age, gender, BMI, duration of diabetes, comorbidities, number of drug taken, medication knowledge, and pattern of antidiabetic medication were also collected. The data analysis was carried out using Statistical Package for Social Science (SPSS) for Windows version 26.0. Results. Out of 300 patients, about 169 (56.3%) were not adherent to obtain their medication properly. When we assessed the variables to predict factors that associated with non-adherence by using Logistic regression analysis, we found only three factors: age CI (0.940-0.985); P=0.043, medication knowledge CI (0.950-0.984); P=0.018, and pattern of anti-diabetic medication CI (0.945-0.955); P=0.034. Conclusion. Our findings showed that the adherence to type 2 diabetic medication was poor with more than half of participants being non-adherent. This is a cause of alarm, because non-adherence could lead to a worsening of disease. Educating patients about their medication could help improve adherence.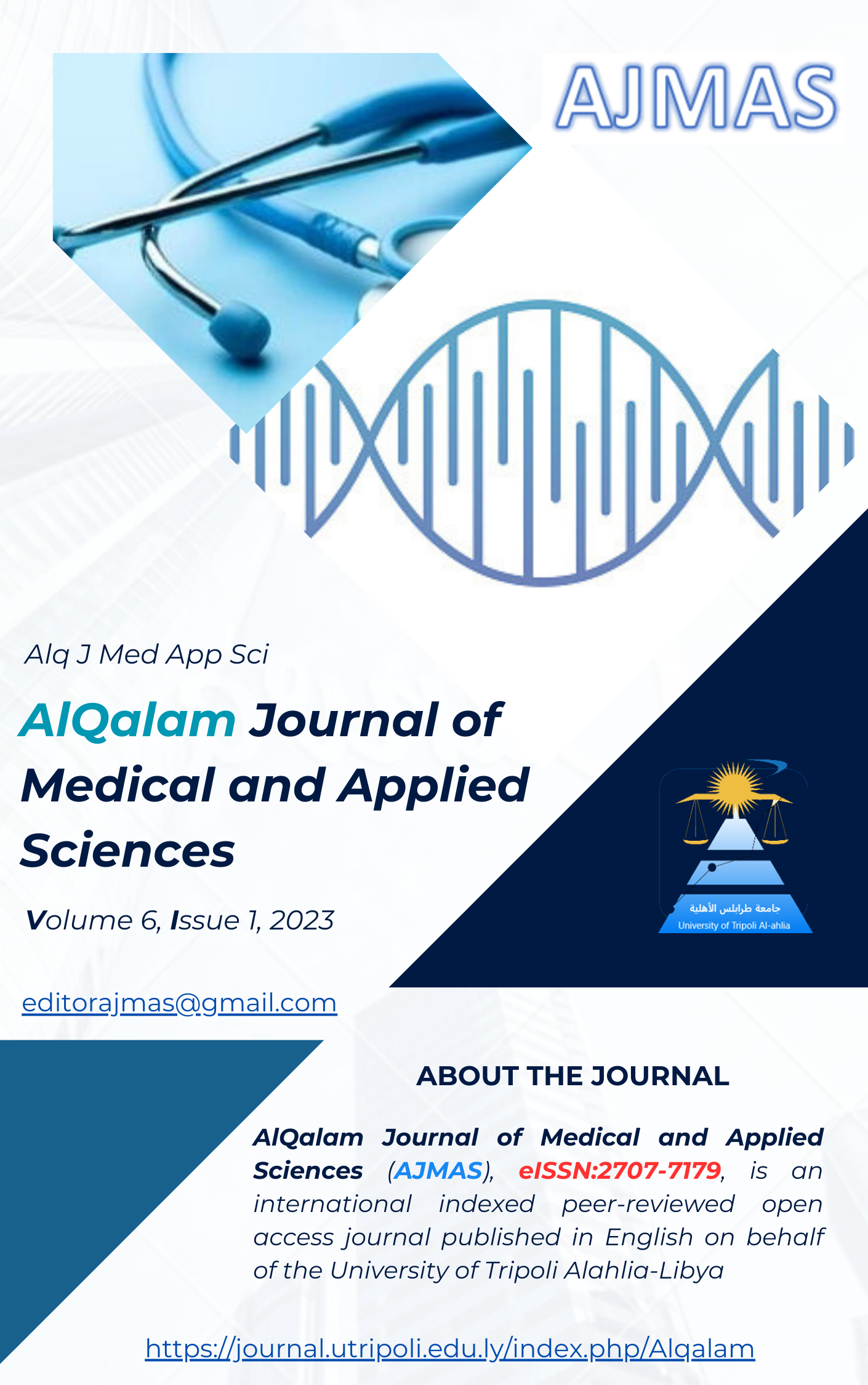 Downloads
How to Cite
Amal Atair, Muna Mohamed, Sageda Bashir, Nora Edress, & Zahra Younis. (2023). Factors Associated with Non -Adherence to Antidiabetic Medications among Patients with Type 2 DM in Al-Bayda- Libya. AlQalam Journal of Medical and Applied Sciences, 193–200. Retrieved from https://journal.utripoli.edu.ly/index.php/Alqalam/article/view/236