Antibiotics Resistance and Susceptibility Pattern of Staphylococcus aureus and Staphylococcus epidermidis associated with Acne
Abstract
Background and aims. Pimples (acne) are small skin lesion or inflammations of the skin, mostly caused by the hormonal changes that occur during adolescent and teenage years. Studies have shown that most common bacteria associated with acne are S. epidermidis, S. aureus and Propionibacterium acne. The development of antibiotics resistance by species of bacteria associated with this disease condition has been attributed to the indiscriminate and overuse of certain antibiotics in its treatment. This study was conducted to isolate the incriminating bacteria in acne and to determine their susceptibility to antibiotics. Methods. A total of 73 samples were collected from male and female patients. The samples obtained were streaked on blood agar and mannitol salt agar plate and then incubated at 37oC for 24 h. Presumptive isolates obtained were subjected to Gram staining and other biochemical tests for identification. The confirmed isolates were further subjected to antibiotics sensitivity tests using disk diffusion method. Results. The results revealed that S. epidermidis strains were 56(76.7%) and 7(9.5%) were S. aureus strains following morphological and biochemical tests, while 10(13.6%) of the isolates yielded no bacterial growth. Bacterial susceptibility testing was done using disk diffusion method for the 63 isolates (S. aureus and S. epidermidis), and the finding showed that S. epidermidis was susceptible to doxycycline 38(67.86%), and ofloxacin 15(26.79%), while resistance to tetracycline, erythromycin, and clindamycin was observed in 47(82.93%), 40(71.4%), and 22(39.29%) of S. epidermidis isolates respectively. On the other hand, S. aureus was found to be sensitive to clindamycin 7(100%) and doxycycline 7(100%), but it was resistant to ofloxacin 3(42.86%), erythromycin 2(28.57%), and tetracycline 2(28.57%). Conclusion. The findings of this study revealed presence of antibiotic resistance among Staphylococcus aureus and Staphylococcus epidermidis isolates obtained from patients with Acne vulgaris. This is an indication of the influence the consumption of antibiotics has on the development of antibiotic resistance, which is considered a serious public health problem.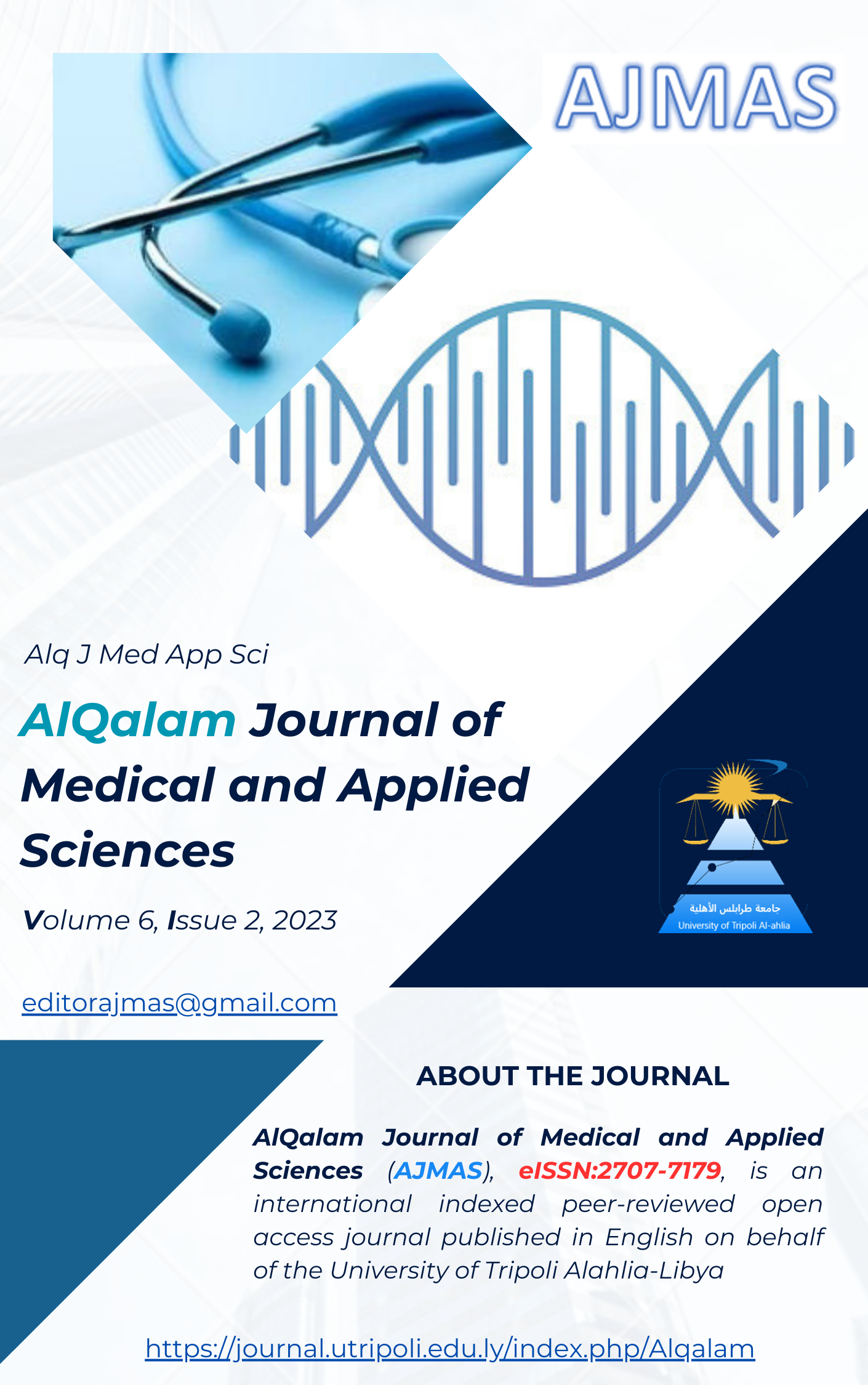 Downloads
How to Cite
Aya Abdulatif, Asma Elkammoshi, Hiba Alsharif, & Heba Abuhelala. (2023). Antibiotics Resistance and Susceptibility Pattern of Staphylococcus aureus and Staphylococcus epidermidis associated with Acne. AlQalam Journal of Medical and Applied Sciences, 687–693. Retrieved from https://journal.utripoli.edu.ly/index.php/Alqalam/article/view/391
License
This work is licensed under a Creative Commons Attribution 4.0 International License.