Isolation and Identification of the Bacteria that Causes Otitis Media in Medical Center Hospitals Tripoli, Libya
Abstract
Background and aims. People of all ages are susceptible to otitis media, a common ear infection, with a higher incidence in developing nations like Sub-Saharan Africa and South Asia, otitis media is the second most prevalent cause of hearing loss and the fifth most common disease worldwide. As a result, the objective of this study is to identify and isolate the bacteria that cause otitis media to use susceptibility testing in Tripoli, Libya, to find appropriate medications. Methods. Ear discharge samples from 100 patients with chronic ear discharge who had not had antibiotics in the previous five days were taken and cultured. Swab samples were taken from each patient and sent to the microbiology department for examination. The materials were grown, and the isolates were identified using standard microbiological methods. The Kirby-Bauer disc diffusion method was used to test the isolates' susceptibilities to various antibiotics. Results. Ninety-five out of a hundred ear discharge and swab samples were chosen for further analysis. The results demonstrated that 36 (38%) of the pathogens identified were Staphylococcus aureus, 5 (5%) were Streptococcus pneumonia, 3 (3%) were Staphylococcus epidermidis, 30 (32%) were Pseudomonas aeruginosa, 8 (8%) were Klebsiella Pneumonia, 1 (1%) were Haemophilus influenza, 7 (7%) were Enterococcus Faecalis, 2 (2%) were Acinetobacter pneumanni, 1 (1%) were Citrobacter koseri, and 2 (2%) were Morganella Morgani whereas, 5 samples did not grow. Conclusion. Adult males are more likely than adult females to have otitis media, according to our study. The data also showed that Staphylococcus aureus was the most typical isolate and the most typical cause of otitis media, with Ciprofloxacin being the most efficient drug.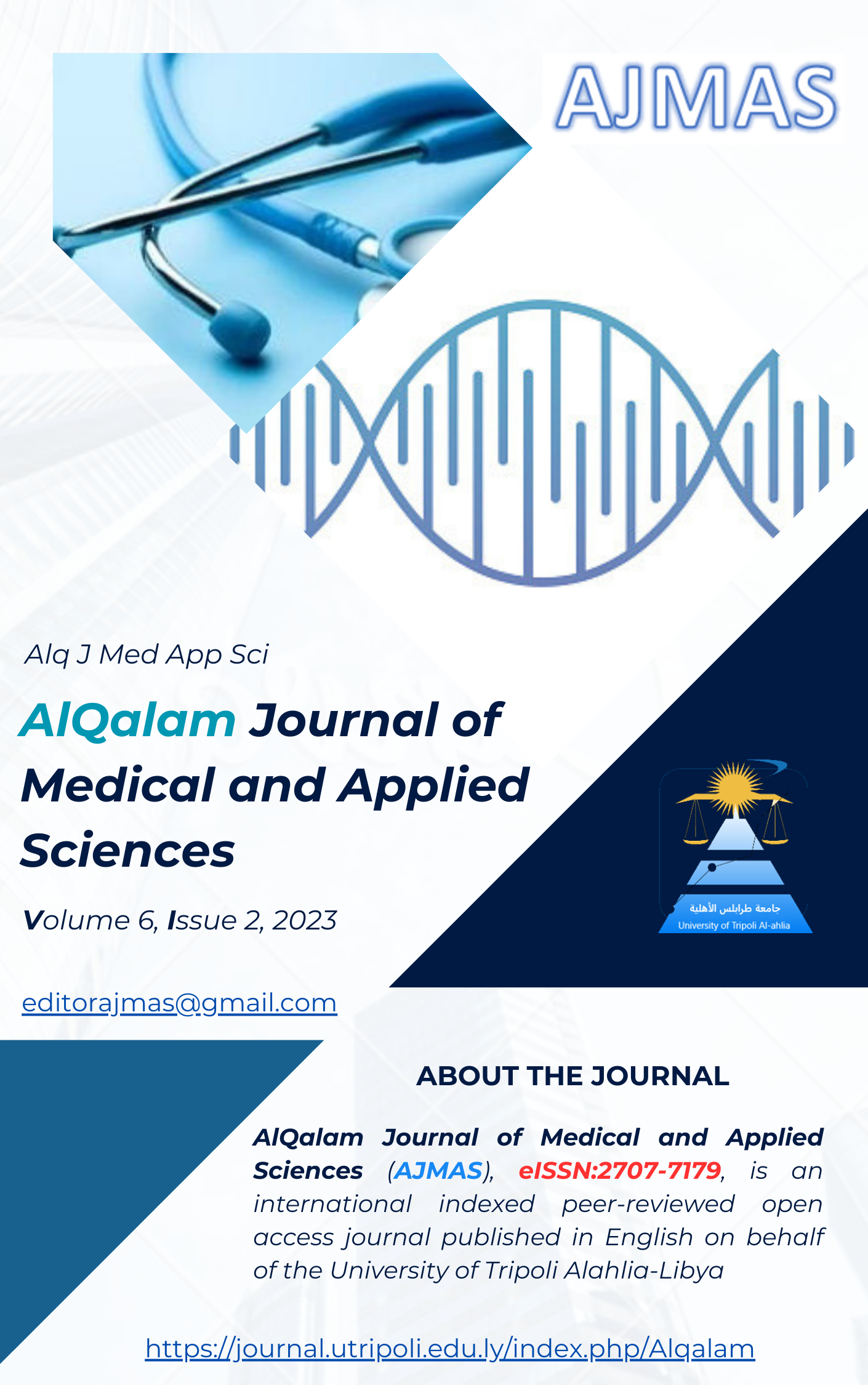 Downloads
How to Cite
Najla Elyounsi, Abdurraouf Said, Heba Abuhelala, Hiba Alsharif, & Asma Elkammoshi. (2023). Isolation and Identification of the Bacteria that Causes Otitis Media in Medical Center Hospitals Tripoli, Libya. AlQalam Journal of Medical and Applied Sciences, 666–671. Retrieved from https://journal.utripoli.edu.ly/index.php/Alqalam/article/view/377
License
Copyright (c) 2023 Najla Elyounsi, Abdurraouf Said, Heba Abuhelala, Hiba Alsharif, Asma Elkammoshi
This work is licensed under a Creative Commons Attribution 4.0 International License.