Detection of Aromatic Compounds in Some Samples of Shell at Darnh Coast
Keywords:
Hydrocarbon, Shell, Darnh, Coast, Aromatic
Abstract
Background and aims. Polycyclic aromatic hydrocarbon (PAH) is wide- spread class of environmental chemical pollutants with mutagenic and carcinogenic properties and it can accumulate in different matrices of the aquatic environment. This study was aimed to assess the degree of contamination by PAHs of the coastal sediments in non-industrialized area of Mediterranean Sea. Methods. The area of study extends along the coast Port Darnh City about 4km in the east of Darnh. Three locations were chosen; Hydrocarbons have been determined in Shell. The samples were analyzed for aromatic hydrocarbons following different steps including; extraction, cleaning up, fractionation, instrumental analysis and analytical quality control. Results. The results showed that the high contents of PAHs were recorded at AL Port (1,2) location, in the Marine Shell (Monodonta) samples of with values of (10.72 and 10.82 µg/g), respectively, and contents of PAHs in Monodenta shells were as following (8.92 µg/g) for the locations of port 3. On the other side the contents of PHAs in the Patella shell samples were fluctuated in the ranges of (4.1 µg/g), (8.08 µg/g) and (9.0 µg/g) at the locations of Port 1,2,3, respectively. Conclusion. This study has satisfied the hydrocarbons concentration of marine in shell taken from area Al Jabal Al - Akhdar- for port in Darnh city, that most the studied samples containing aromatic hydrocarbons.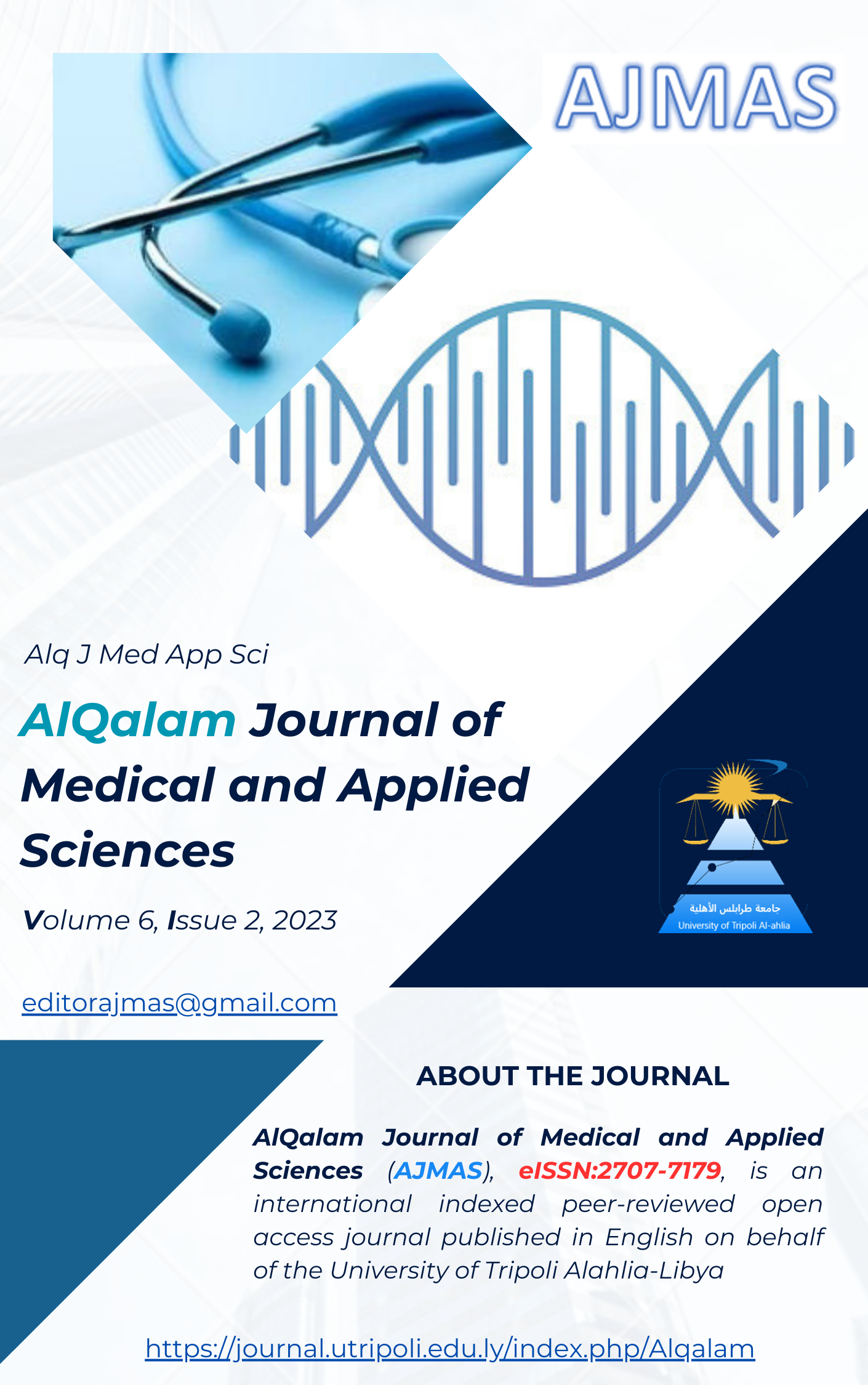 Downloads
How to Cite
Abeer Mohammed, & Souad Alsharef. (2023). Detection of Aromatic Compounds in Some Samples of Shell at Darnh Coast. AlQalam Journal of Medical and Applied Sciences, 401–407. Retrieved from https://journal.utripoli.edu.ly/index.php/Alqalam/article/view/304
License
Copyright (c) 2023 Abeer Mohmmed, Souad Alshare
This work is licensed under a Creative Commons Attribution-NonCommercial 4.0 International License.