Checklist of Poisonous Plants of Cyrene (campus apollo) Shahat-AL-Jabal AL-Akhdar, Libya
Keywords:
Department of Botany, Faculty of Science, Omar AL-Mukhtar University, Libya
Abstract
Aims. The aim of the present study was to identify the poisonous plants of Cyrene (campus Apollo (Shahat- AL-Jabal AL-Akhdar, Libya. Methods. The study was carried out in the period from October 2021 to May 2023. The plant specimens were collected in flowering or in fruiting condition. Data inventory has been documented in the form of family, botanical name, vernacular name, life form, and Used part. Results. The study revealed the presence of 50 species of poisonous plants distributed in 41 genera and 27 families. Two family of Gymnosperms and remaining 25 families are belonging to Angiosperms. Dicotyledons are represented by 39 species 2 sup species 33 genus 20 families. Monocotyledons are represented by 6 species 6 genus 5 families. The most dominant life forms of the poisonous plants were Therophytes having 20 species (40%) followed by Geophytes 9 species (18%), Phanerophytes 8 species (16%), Nano-phanerophytes 6 species (12)%, Chamaephytes 5 species (10%), and Heleophytes 2 species (4%). Conclusion. This study is considered the first of its kind to document poisonous plants in the region, and to prepare a list of them, as they have not been studied before, and came to fill the lack of information. Further studies are needed towards to a better understanding of the detailed mechanism of action of these poisonous plants, as well as their role in curing a variety of diseases.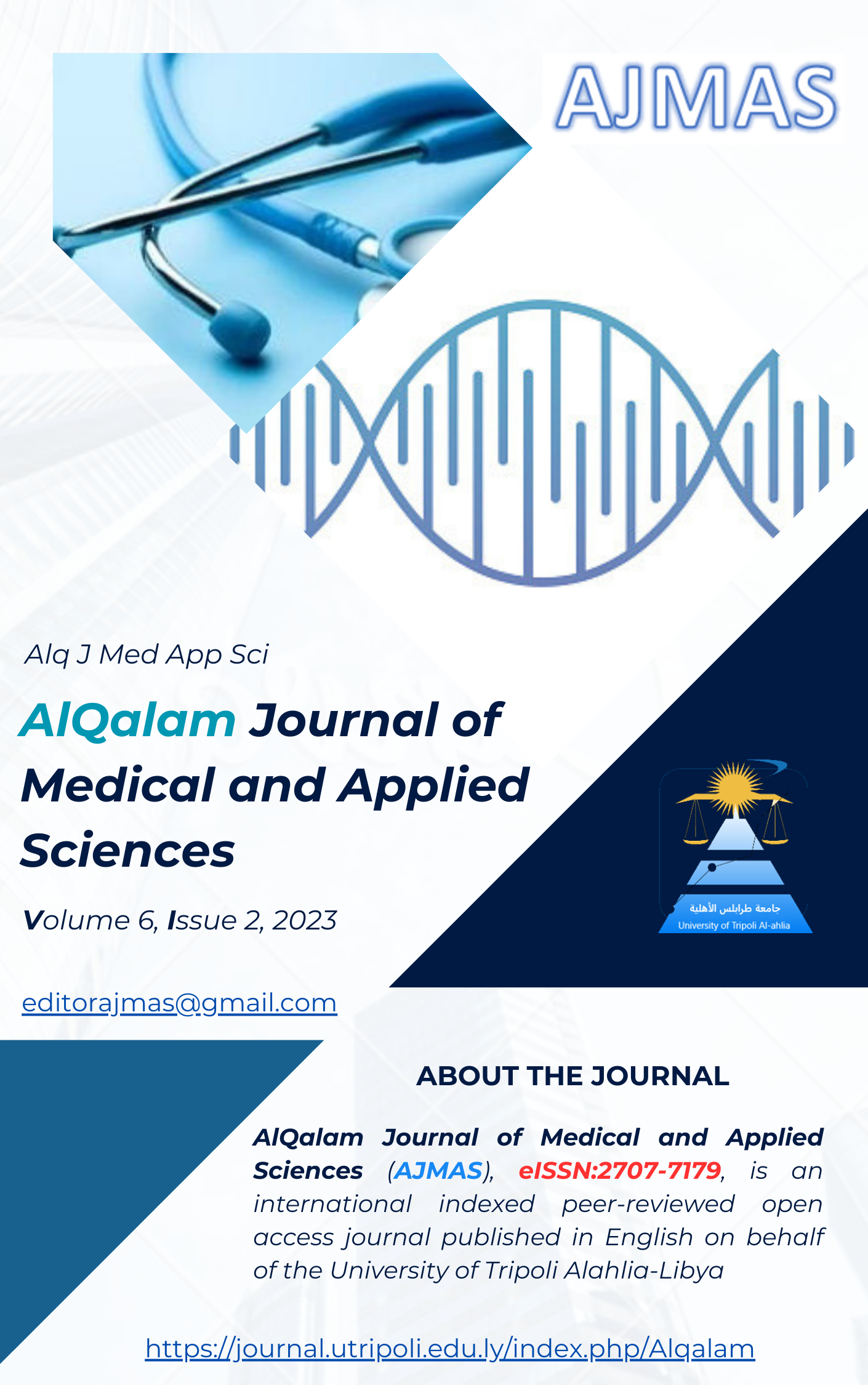 Downloads
How to Cite
Hamida Hamad, Rania Ali, & Enas Saed. (2023). Checklist of Poisonous Plants of Cyrene (campus apollo) Shahat-AL-Jabal AL-Akhdar, Libya. AlQalam Journal of Medical and Applied Sciences, 360–366. Retrieved from https://journal.utripoli.edu.ly/index.php/Alqalam/article/view/295
License
Copyright (c) 2023 Hamida Hamad, Rania Ali, Enas Saed
This work is licensed under a Creative Commons Attribution-NonCommercial 4.0 International License.