Pattern of Presentation and Treatment of Prostate Cancer in Southwestern, Nigeria
Keywords:
Prostate Cancer, Androgen Deprivation Therapy, Pattern of Presentation
Abstract
Aims. This study was aimed at finding the pattern of presentation and treatment of prostate cancer in our community and was to determine the socio-demographic data, clinical features at presentation, investigations done including PSA, treatments offered, incidence and outcome of prostate cancer in our immediate community. Method. The records of patients that were managed for histologically confirmed prostate cancer were retrieved from the hospital medical record department. The information gathered from the case files was analyzed by using SPSS version 23. Results. A total number of 181 patients were histologically confirmed with prostate cancer during the year under review. This is equivalent to an average hospital incidence of 0.024569. The age range of the study group was 46-90years with a mean of 66.67+/8.7SD. All the patients presented with lower urinary tract symptoms. 98.89 % (n=179) were diagnosed with advanced prostate cancer. 93.92 % (n=170) had bilateral total orchidectomy while 5.52% (n=10) preferred medical castration. 0.552 % (n=1) is on watchful waiting. Some of the patients had marked clinical improvement following androgen deprivation therapy (ADT) 19.32% (n=35) mortality was recorded. 44.19% (n=80) were lost to follow-up. 16.57% (n=30) developed castrate resistant prostate cancer (CRCP). Conclusion. The average hospital incidence was 24.5per 1000(2012-2022) and the average age of incidence was 66.67 years. Majority of the study group presented with metastasis.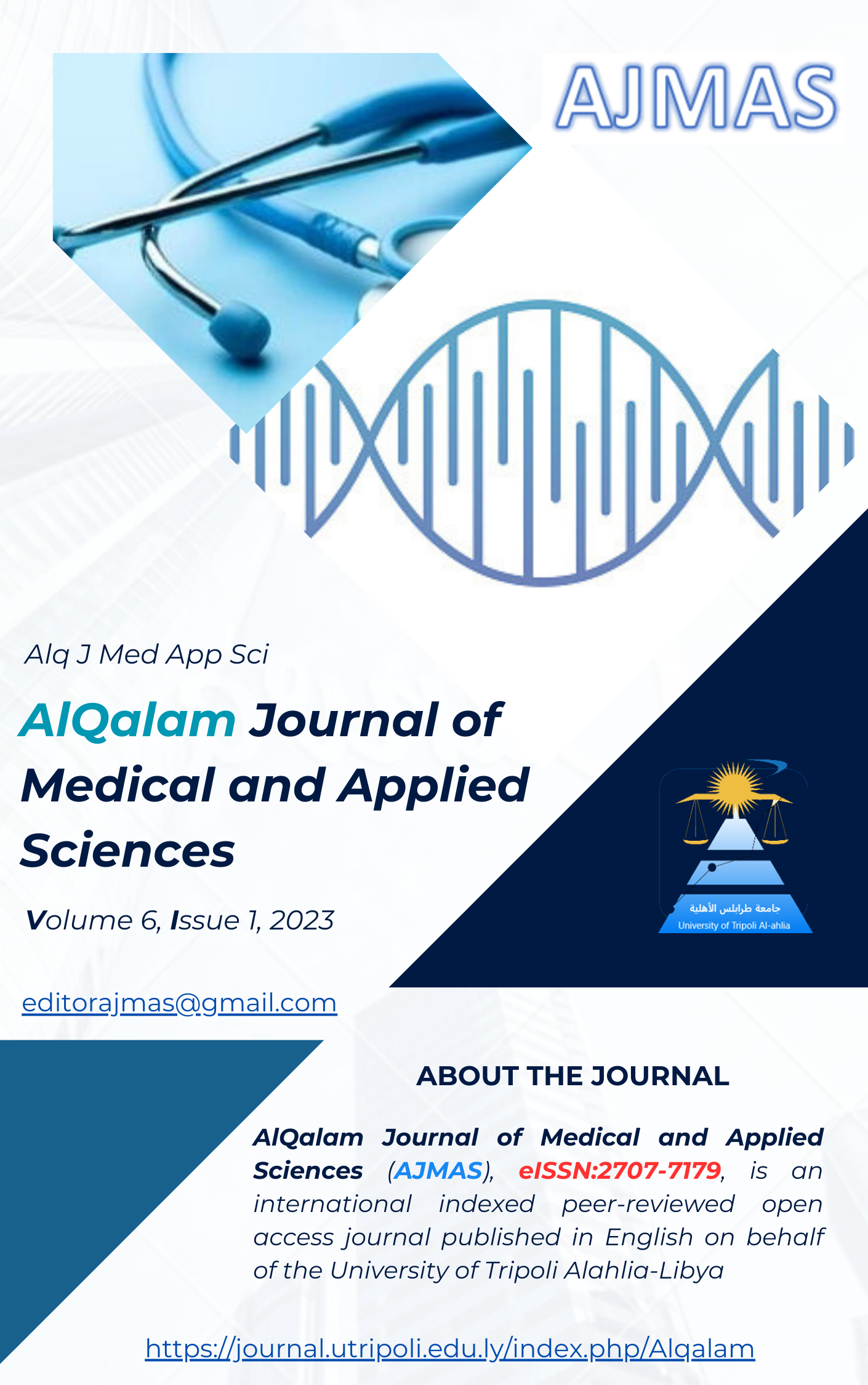 Downloads
How to Cite
Najeem Adedamola Idowu, Chidi Ugwuoke, Adedokun Stephebe Ishola, & Akinlawon Akanmu. (2023). Pattern of Presentation and Treatment of Prostate Cancer in Southwestern, Nigeria. AlQalam Journal of Medical and Applied Sciences, 146–151. Retrieved from https://journal.utripoli.edu.ly/index.php/Alqalam/article/view/219