Prevalence of Gastrointestinal Tract Cancer in Western Part of Libya
Keywords:
Gastrointestinal, Cancer, Study, Patients
Abstract
Background and aims. Cancer incidence rates are rising globally, and in Libya they have been rising over the past ten years. However, little research has been done on gastrointestinal tract cancer incidence rates and distribution, which is crucial for understanding local epidemiology and cancer control. The aim of this study was to demonstrate the high incidence of gastrointestinal tract cancer in Libya. Methods. From 2015 to 2021 a primary care polyclinic (family physician unit) in Janzour (western Tripoli-Libya) enrolled 2950 patients for this retrospective observational randomized study. Results. The study´s finding showed that between January 2015 and December 2021, there were 2950 patients who visited the family physician´s office. Of those, six patients had been diagnosed as gastrointestinal cancer, including two males who had been diagnosed with colorectal cancer and four females who had been diagnosed with hepatocellular carcinoma(HCC) in two of them, while the other two colorectal cancers, with a male to female ratio 1:2.  All of the cases were middle-aged (50±10) years, the patients all complained of abdominal pain. All these gastrointestinal tract cancer patients resided within a 1-2 Kilometer radius of the family physician unit (a tiny geographic area of roughly 4 Km2). This study demonstrates that six patients out of 2950 patients complaining of abdominal pain, were diagnosed with gastrointestinal tract cancer; this equates to 1 case per 500 patients attending a family physician. Conclusion. Research, education for medical professionals, screening, and discussion of the significance of ongoing epidemiological and etiological investigations are all required due to the increased incidence of gastrointestinal tract cancer in Libya.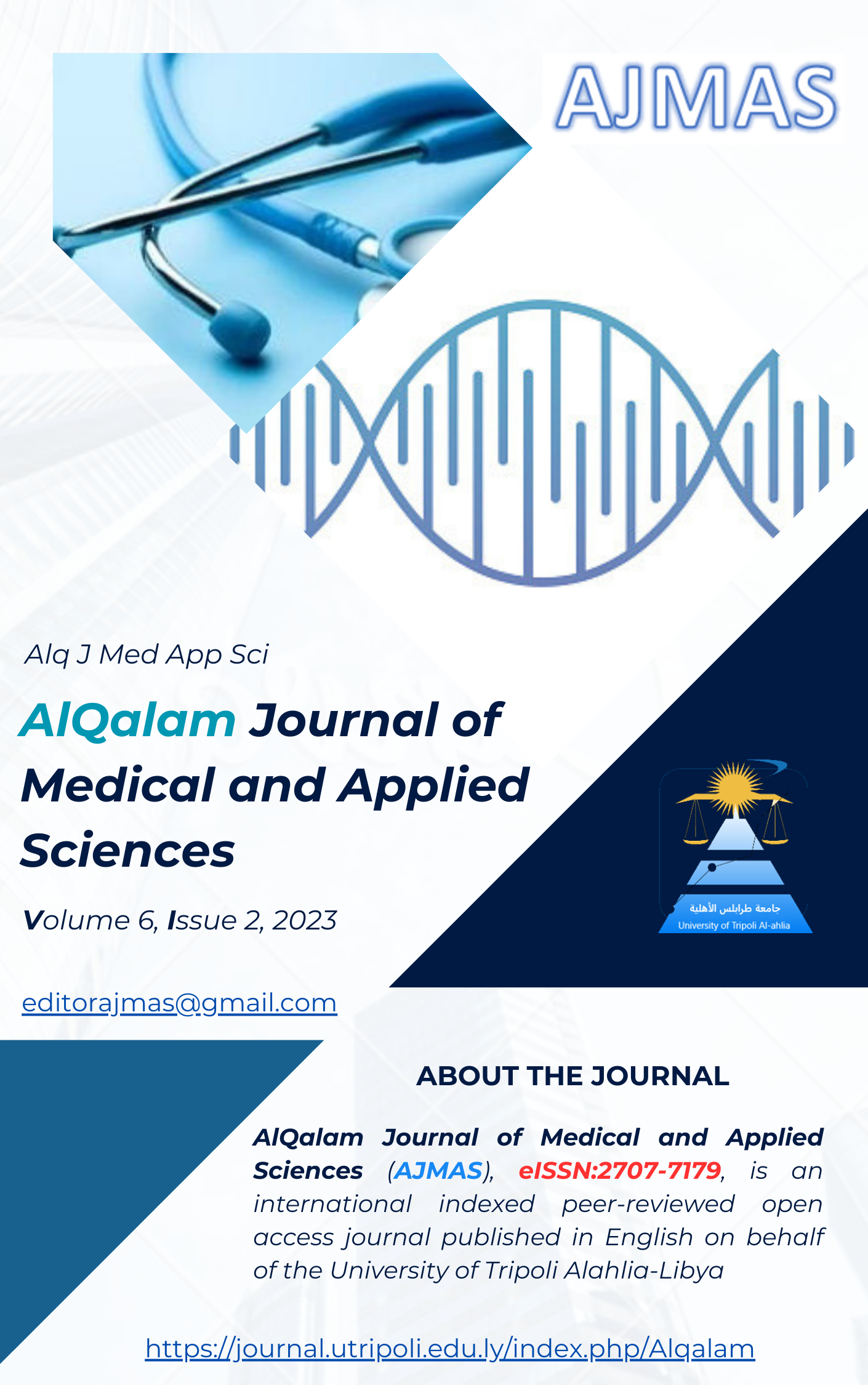 Downloads
How to Cite
Samira Alkuni, Wael Diekna, Malak Allafi, Maram Abdulhamid, & Firouz Torjman. (2023). Prevalence of Gastrointestinal Tract Cancer in Western Part of Libya . AlQalam Journal of Medical and Applied Sciences, 491–495. Retrieved from https://journal.utripoli.edu.ly/index.php/Alqalam/article/view/333
License
This work is licensed under a Creative Commons Attribution-NonCommercial 4.0 International License.