Prevalence of Hepatitis B and C Infection Among Patients in Tripoli Central Hospital
Keywords:
Hepatitis B, Hepatitis C, Prevalence, Risk Factors
Abstract
Background and aims. The prevalence of viral hepatitis has been observed in various regions in Africa, however the prevalence in Libya is not well documented. This study was aimed to illustrate the prevalence of hepatitis C and B viruses estimates in Libya and to investigate the common risk factors. Methods. The study determined the prevalence of HBV, HCV virus among patients in Tripoli Central Hospital and carried out to determine the risk factors among adult patients. Results. Overall, 259 patients with a confirmed diagnosis of hepatitis B or C were included in this study. Most cases were infected with HBV (63%) compared to HCV cases (37%). Prevalence was higher in males (HBV, (69.75%) compared to HCV (65.97%). Mean age of HBV was 40.2 and HCV 43.1. More than half of the cases were asymptomatic (55.21%). The modes of viral transmission for all patients were unknown cause by (41%) of patients. Following by dental transmission in (24%) patients. Whereas about (18%) patients were transmitted via blood transfusion and 35 (14%) of patients were transmitted by drug abuse 4 (2%). The results show that, the route of transmission by shaving and sexuality were close about (2%) and 4 (2%) transmission respectively. The lowest rate of transmission was through the contaminated needles 1(0.38%). Conclusion. This study indicates high prevalence of HBV infection comparing to HCV. Libya should implement national strategies and guidelines to limit the spreading and face the future consequences of viral hepatitis. Educating common people regarding mode of transmission will help to reduce Hepatitis B and C transmission.
Cite this article. Said A, Abuagela M, Elyounsi N, Dakhil A, Elansari A. Prevalence of hepatitis B and C Infection Among Patients in Tripoli Central Hospital. Alq J Med App Sci. 2022;5(2):406-410.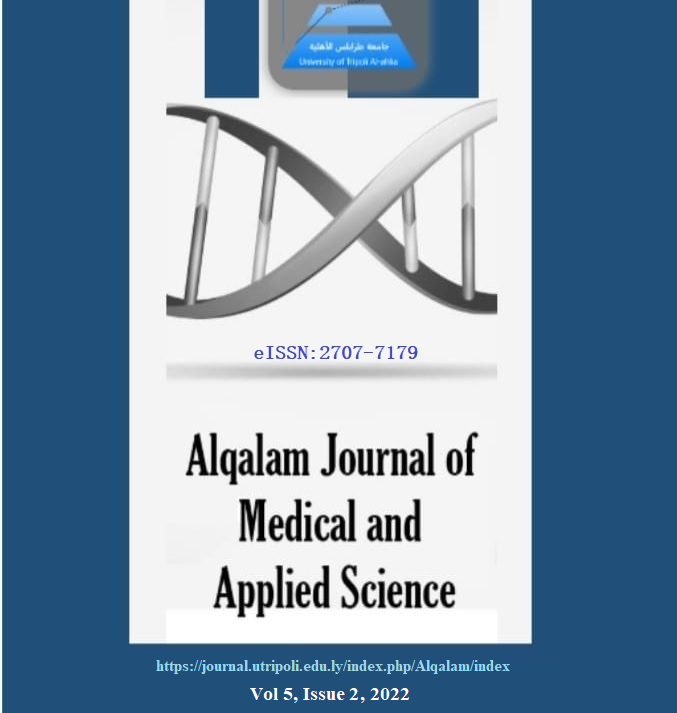 Downloads