Energy Drinks Consumption Among Medical Student in Omar Al-Mukhtar University
Keywords:
Energy Drinks, Medical Students, Prevalence, Pattern, Knowledge and Effects
Abstract
Background and Objectives. The energy drinks (EDs) consumption has become a common problem among the students of universities which brought an attention recently, hence, the purpose of this study was to investigate the prevalence of EDs consumption among medical student of Omar Almukhtar university and their usage pattern, and also aimed to assess the participant's knowledge about EDs effects. Methods. A cross-sectional survey of 225 students from three different medical colleges (medicine, pharmacy and nursing) in Omar Al-Mokhtar University and data collection was conducted through a self-response questionnaire between September and October 2021. Results. Twenty-one percent (21%) of 225 students were drinking energy drinks. About (32%) of students consumed EDs to enhance their intellectual and physical performance. About (70%) of the students reported that they consume one energy drink per day and, about (44%) of students were drinking EDs for a long time (5 years). The frequency of EDs use was irregular (40.82%) particularly prior to physical exercises and mental activity (34.70%) and, EDs selection was determined by taste among (62%) of the students. The information about EDs mainly derived from friends (30%) and the students recognized the adverse effects of EDs (76.44%), and about (70%) experienced these effects, which was most predominantly mood elevation (24.49%). Conclusion. The study addressed that EDs consumption among medical students in Omar Almuktar University was low and, students are consuming EDs aiming to improves their physical performance and mental activity and, the study also, indicated that EDs selection is primarily based on taste.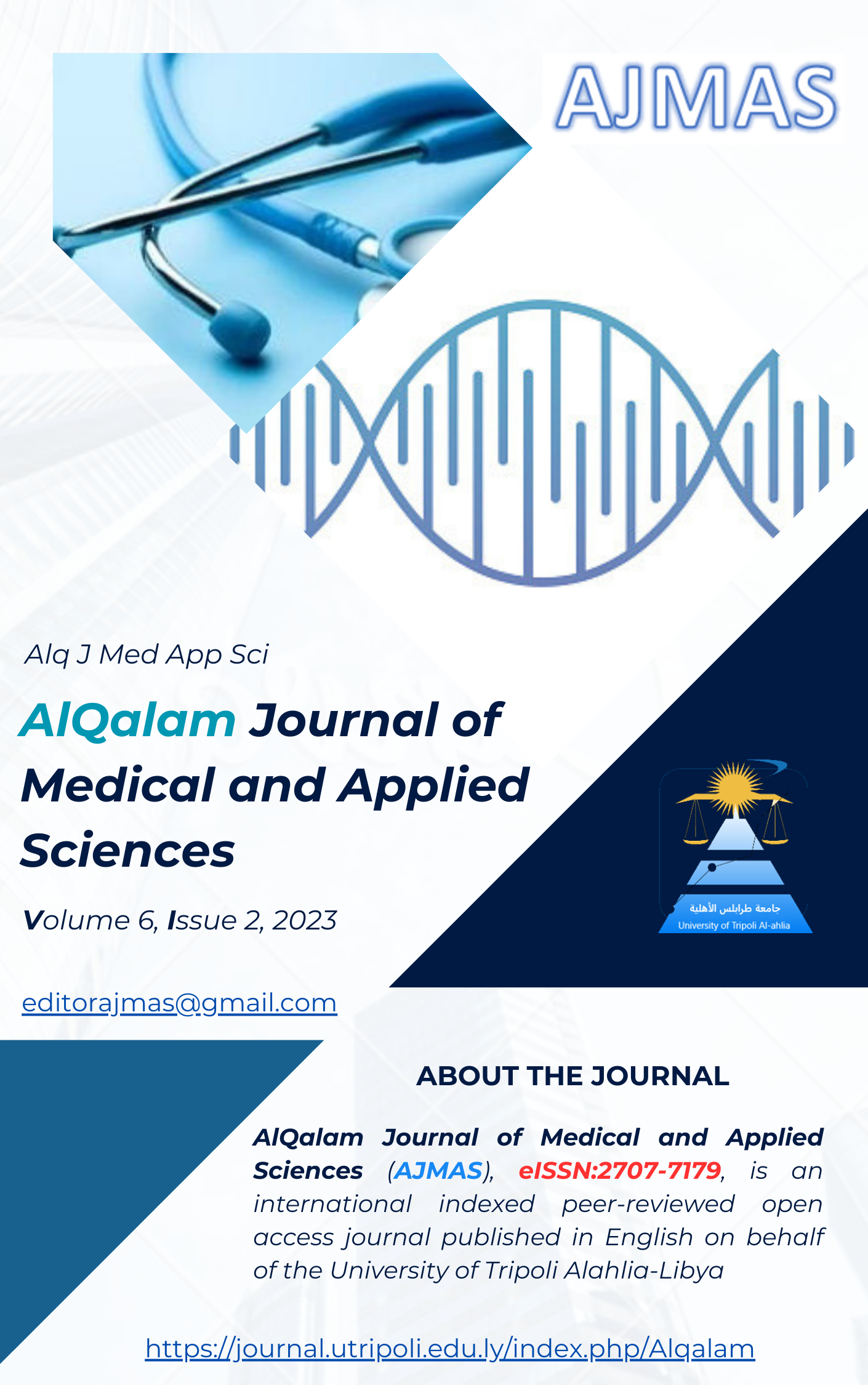 Downloads
How to Cite
Mahmoud Elderbi, Ashref Elburi, & Taher Shailabi. (2023). Energy Drinks Consumption Among Medical Student in Omar Al-Mukhtar University. AlQalam Journal of Medical and Applied Sciences, 320–326. Retrieved from https://journal.utripoli.edu.ly/index.php/Alqalam/article/view/287
License
This work is licensed under a Creative Commons Attribution-NonCommercial 4.0 International License.