Effects of Paracetamol on Submandibular Salivary Glands in Albino Rats
Keywords:
Salivary, Apoptotic, Duct, Paracetamol, Rat
Abstract
Background and aims. Paracetamol (AAP) is the most common drug used as an analgesic and antipyretic. It can induce oxidative stress which can cause cell death. The aim of this study was to assess the effect of paracetamol on the submandibular salivary gland (SMG)of Albino rats. Methods. Twelve adult male albino rats were used, divided into control and experimental groups. The experimental group received orally 350mg/kg (paracetamol) once daily for 4 weeks and control groups received 2ml physiologic saline, and methyl cellos once orally daily during whole experimental period. Results. Histological examination of the experimental group showed that acinar cells demonstrated pyknotic and deeply stained nuclei with many cytoplasmic vacuolations. The ducts showed some signs of degeneration with loss of their normal cellular outlines. However, showed degenerative changes. Apoptotic changes expressed by anti-active caspase 3 were more obvious in acinar cells than in ductal cells. Statistical results showed a significant (P<0.05) statistical difference between the two groups. Conclusion. Long use of paracetamol leads to a degenerative and apoptotic change in acinar and ductal cells (SMG).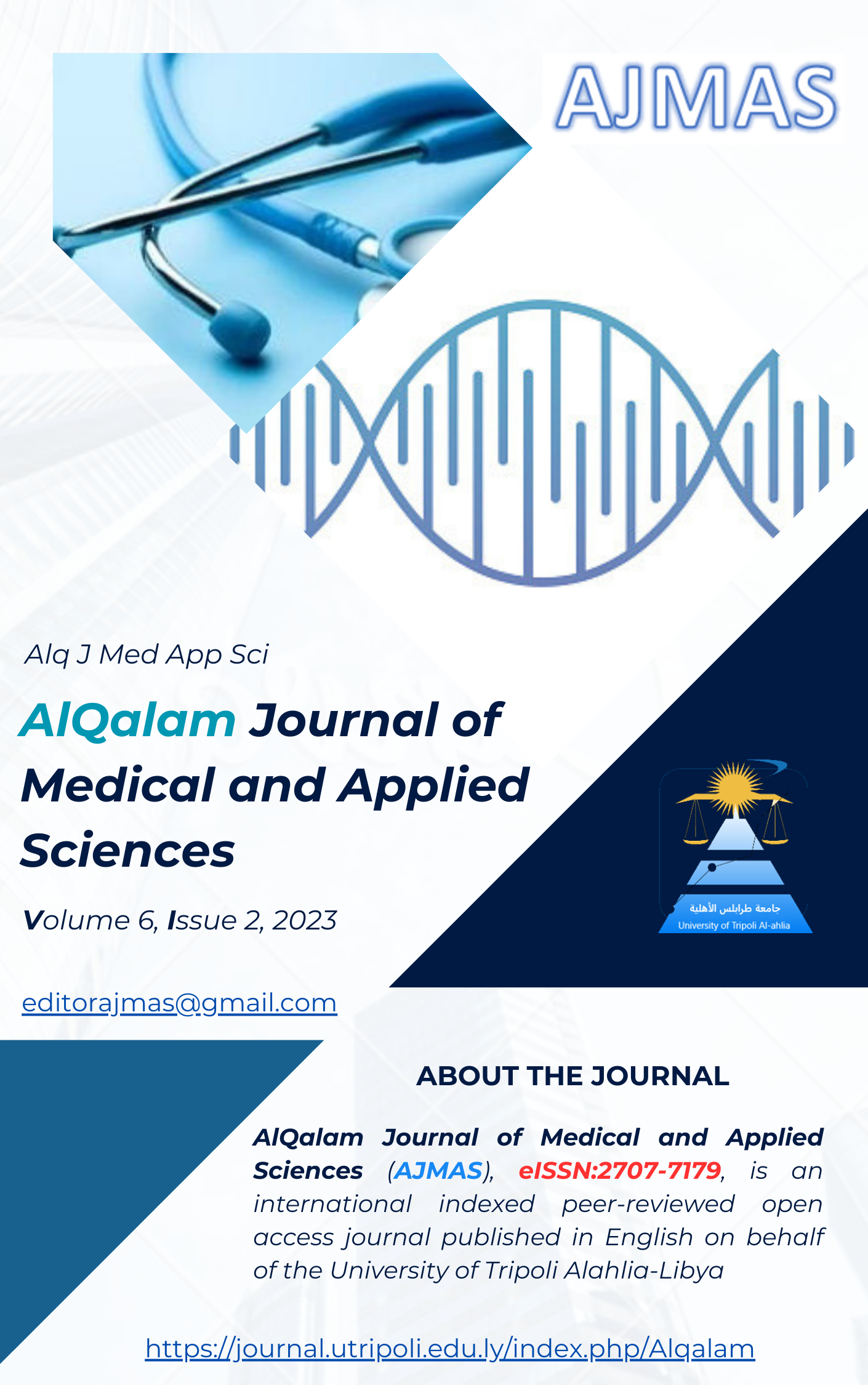 Downloads
How to Cite
Amal Daba, & Sara Bogazia. (2023). Effects of Paracetamol on Submandibular Salivary Glands in Albino Rats. AlQalam Journal of Medical and Applied Sciences, 298–304. Retrieved from https://journal.utripoli.edu.ly/index.php/Alqalam/article/view/280
License
This work is licensed under a Creative Commons Attribution-NonCommercial 4.0 International License.