Immunohistochemical Evaluation of Angiogenesis in Diabetes: An in-Vitro Experimental Study
Keywords:
Angiogenesis, Diabetes, VEGF, Inflammation
Abstract
Background and aims. Vascular endothelial growth factor (VEGF) is an endothelial cell mitogen, chemotactic agent, and inducer of vascular permeability. It is unique for its effects on multiple components of the wound healing cascade, including angiogenesis and recently shown epithelization and collagen deposition. This study was aimed at evaluating the angiogenesis in diabetes by the expression of VEGF. Methods. A total of 24 adult male rats aged about 6 months and weighing about 250gm was divided into 2 groups. Group I (12 rats) non diabetic. Group II (12 rats) diabetic. For study group, the rats were fasted overnight and diabetes was induced by a single intra peritoneal injection of streptozotocin 60 mg/kg body weight in 0.1 M citrate buffer. All animals, were exposed to surgical wounds (extracted lower right first molar). They were sacrificed as follows 4 rats from each group at intervals of 3day, 7day, 21day after extraction for immune histochemical study. Results. In the present study, immunohistochemically expression of VEGF was detected as brown cytoplasmic reaction. All the examined cases showed positive results for VEGF with different scores. Conclusions. The current results demonstrate expression of VEGF in diabetic rats during healing of extracted socket significantly higher than control group in late period .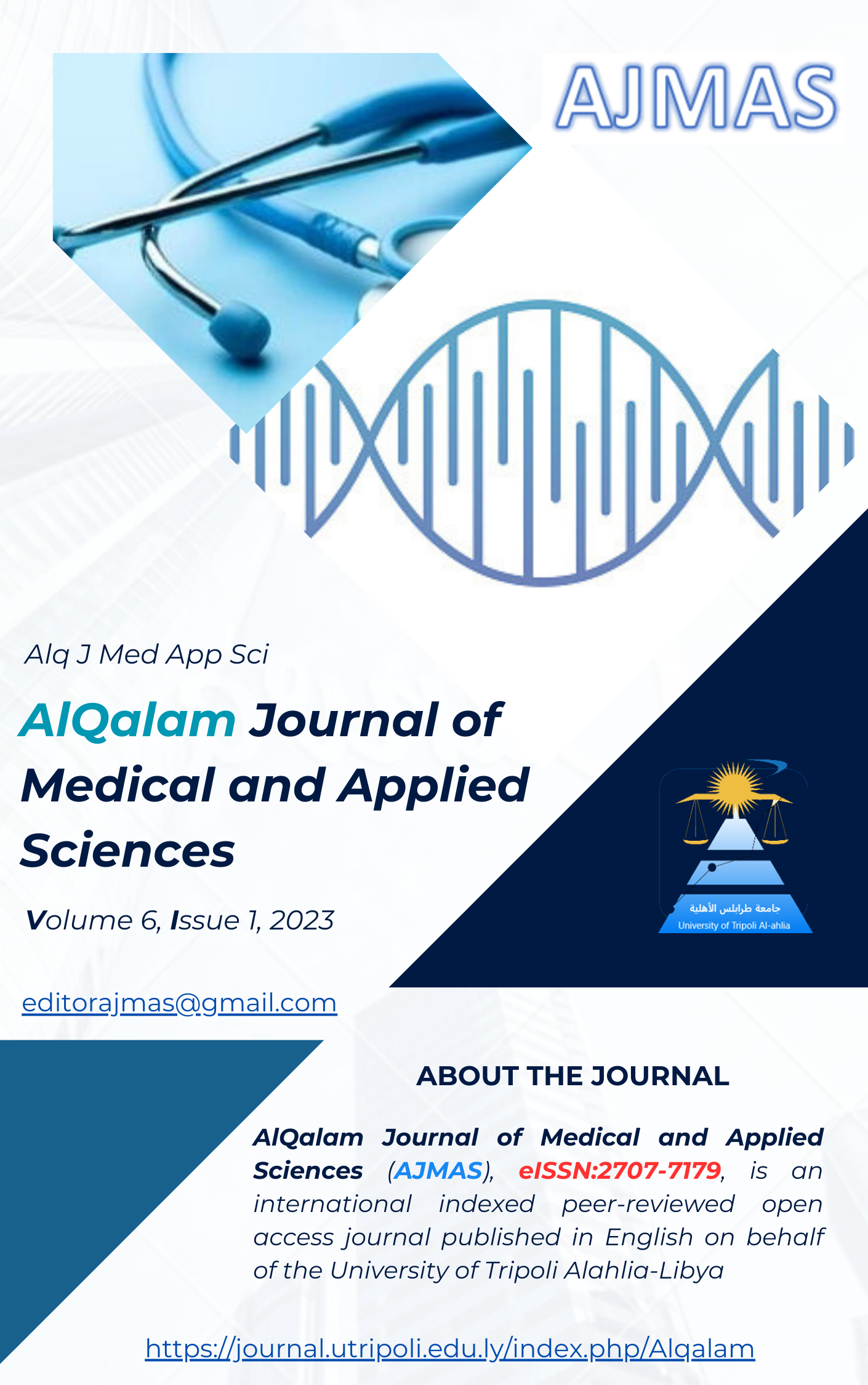 Downloads
How to Cite
Elhadi Thoraya. (2023). Immunohistochemical Evaluation of Angiogenesis in Diabetes: An in-Vitro Experimental Study. AlQalam Journal of Medical and Applied Sciences, 106–112. Retrieved from https://journal.utripoli.edu.ly/index.php/Alqalam/article/view/144