Influence of Dental Fluorosis among Children of Libya
Keywords:
Dental Fluorosis; Oral Health; Fluoride Levels; Water Fluoridation
Abstract
Background and aims. Dental fluorosis may be a condition brought on by societal inequality in access to clean water. The socially disadvantaged rural communities in fluoride-endemic areas lack a regular irrigation system, and their primary source of drinking water is groundwater that naturally contains fluoride, are most affected by this dental public health concern. Children's aesthetic discomfort brought on by the rising prevalence of dental fluorosis globally has the potential to produce psychological and behavioral issues in those who are affected. The aim of this study was to verify the prevalence of dental fluorosis in age between 6-9 year-old children who were school children in the public schools of north west of Libya, and its relationship with different fluoride degrees in the public water supply source. Methods. The study's participants included 315 children aged between 6 and 9 years (159 males and 156 females) who were schoolchildren in the public schools of North West of Libya. Study subjects were selected by systematic random sampling. The modified Dean's index utilized in the current study enables comparison between several dental fluorosis examinations and assessments of its reproducibility to demonstrate remarkable concordance. Results. This study found that the percentage of the majority of cases who drink home water desalination (HWD) was 28.9% (n=91) unaffected dental fluorosis, and 57.5% (n=181) have dental fluorosis. While, the cases who drink ground water was 4.8% (n=15) unaffected dental fluorosis, and 8.9% (n=28) have dental fluorosis. Conclusion. Fluorosis prevalence should be monitored continuously, and sources of fluoride intake in Libya should be further investigated. As a result, the hypothesis of the study showed that there were no statistically significant differences. Furthermore, several kinds of research focusing on various age groups and assessing dental fluorosis in primary teeth and permanent teeth should be conducted.
Cite this article: Shebani N, Dokhan T. Influence of Dental Fluorosis among Children of Libya. Alq J Med App Sci. 2022;5(2):596-601. https://doi.org/10.5281/zenodo.7452399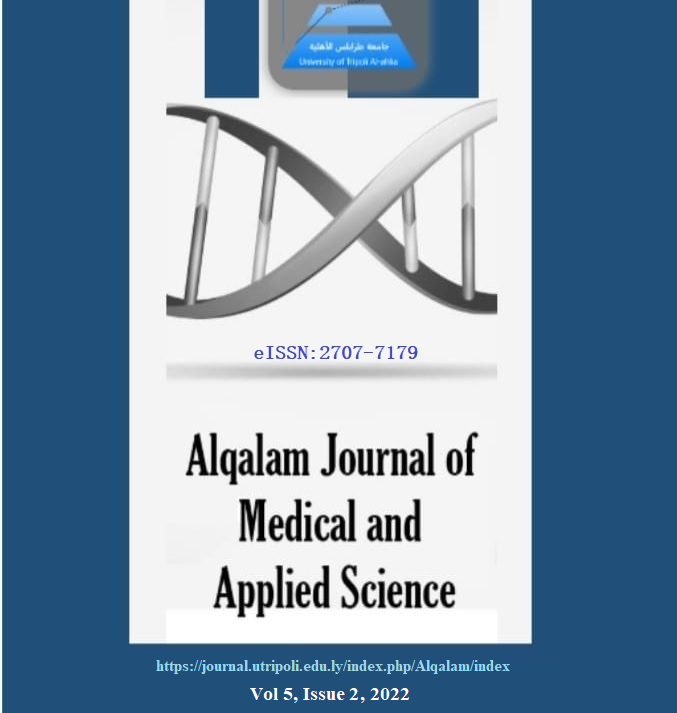 Downloads