Seroprevalence and Potential Risk Factors of Hepatitis E Virus Infection Among Pregnant Women in Tripoli, Libya
Abstract
Background and aims. Hepatitis E virus (HEV) is considered one of the public health important zoonotic diseases and is well-documented to cause significant risk overall the pregnancy terms vary from self-limiting to life-threatening for pregnant women and their offspring. This study was conducted to investigate the seroprevalence and potential risk factors associated with HEV infection among pregnant women in Tripoli, Libya. Methods.  A total of 180 serum samples were collected from pregnant women from March to October 2022 at Reference Medical Laboratory in Tripoli, Libya. Serum samples were screened by Enzyme Immunosorbent Assay against anti-HEV IgG using commercially available ELISA kits (DIA.PRO HEV IgG ELISA, Italy). Statistical significance associations between dependent and independent variables were evaluated using the Chi-square test. P-value < 0.05 was considered an indicator of statistical significance. Results. The overall seroprevalence rate was estimated to be 10% (18/180); CI 95%= 5.62%-14.38%). The highest seroprevalence of HEV was 60 (23.33%; 95% CI= 12.63%-34.04%) among pregnant women 35-45 years of age, the results revealed a statistically significant among age groups (P=.0001). Women in the third trimester reported the highest HEV seroprevalence (11.18%; 95% CI= 6.02%-16.36%). Conclusion. The present results highlighted a potential risk of HEV infection among pregnant women in the country and an increased risk of potential exposure to HEV infection. Further national studies should be conducted to evaluate the seroprevalence and determine the molecular epidemiological patterns, and phylogenetic analysis should be considered.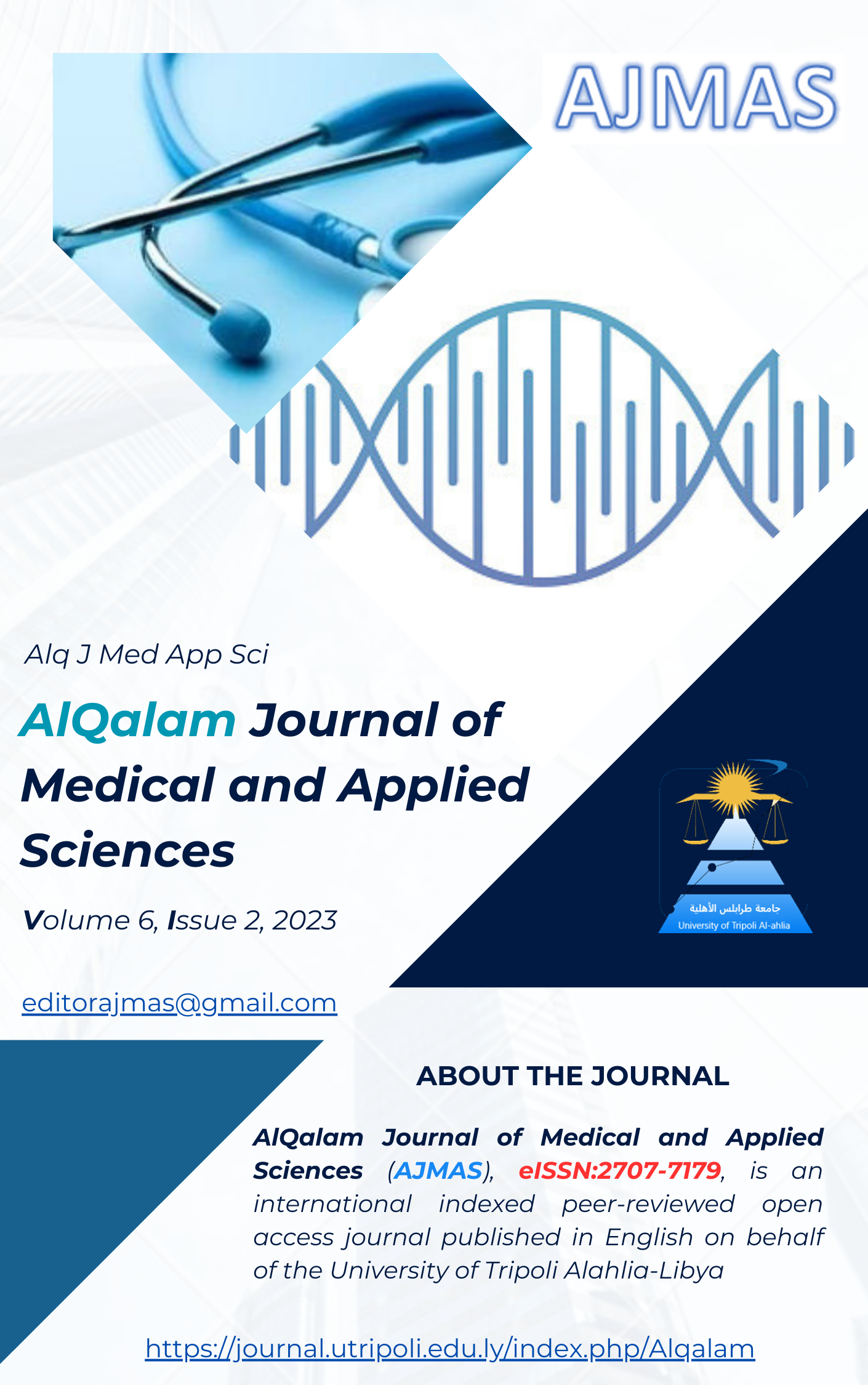 Downloads
How to Cite
Asmaa Abdullah, Khdeeja Ammara, Lubna Kshedan, Abdurrazag Nami, & Abdusalam Sharef. (2023). Seroprevalence and Potential Risk Factors of Hepatitis E Virus Infection Among Pregnant Women in Tripoli, Libya . AlQalam Journal of Medical and Applied Sciences, 707–715. Retrieved from https://journal.utripoli.edu.ly/index.php/Alqalam/article/view/395
License
Copyright (c) 2023 Asmaa Abdullah, Khdeeja Ammara, Lubna Kshedan, Abdurrazag Nami, Abdusalam Sharef
This work is licensed under a Creative Commons Attribution 4.0 International License.