Intestinal Obstruction Due to Gastric Duplication: A Case Report
Abstract
Alimentary tract duplications are rare congenital lesions. About 5% are gastric duplication. Two forms of gastric duplications tubular & cyst, with variable presenting features and the treatment is surgical resection. Herein we present a case report of 40 days male transferred from Sabha hospital with progressive abdominal distension since birth, bilious vomiting, respiratory distress, and constipation. Perinatal history unremarkable. The patient was full term vaginal delivery discharged home after birth. On examination, there were distension mainly upper abdomen. Blood investigation within normal apart from hyperbilirubinemia. Radiological investigations exhibited Uss abdomen showed huge cystic lesion either duplication or mesenteric. computer tomography abdomen showed large cyst pushing the stomach up. Exploration laparotomy was done, and the finding was huge gastric duplication cyst at the greater curvature, the cyst excised & was sent for histopathology. The patient discharged home within few days after uneventful recovery. The microscopic description shows multiple sections reveal cystic structure lined by cuboidal to flat epithelium with underlying fibrocollagenous tissue wall that shows few chronic inflammatory cells infiltration and congested blood vessels along with few mucosal glands lined by benign-looking epithelial cells. In conclusion, gastric duplication is rare entity account for 2% of GIT duplication. Gastric duplications more commonly diagnosed in young children.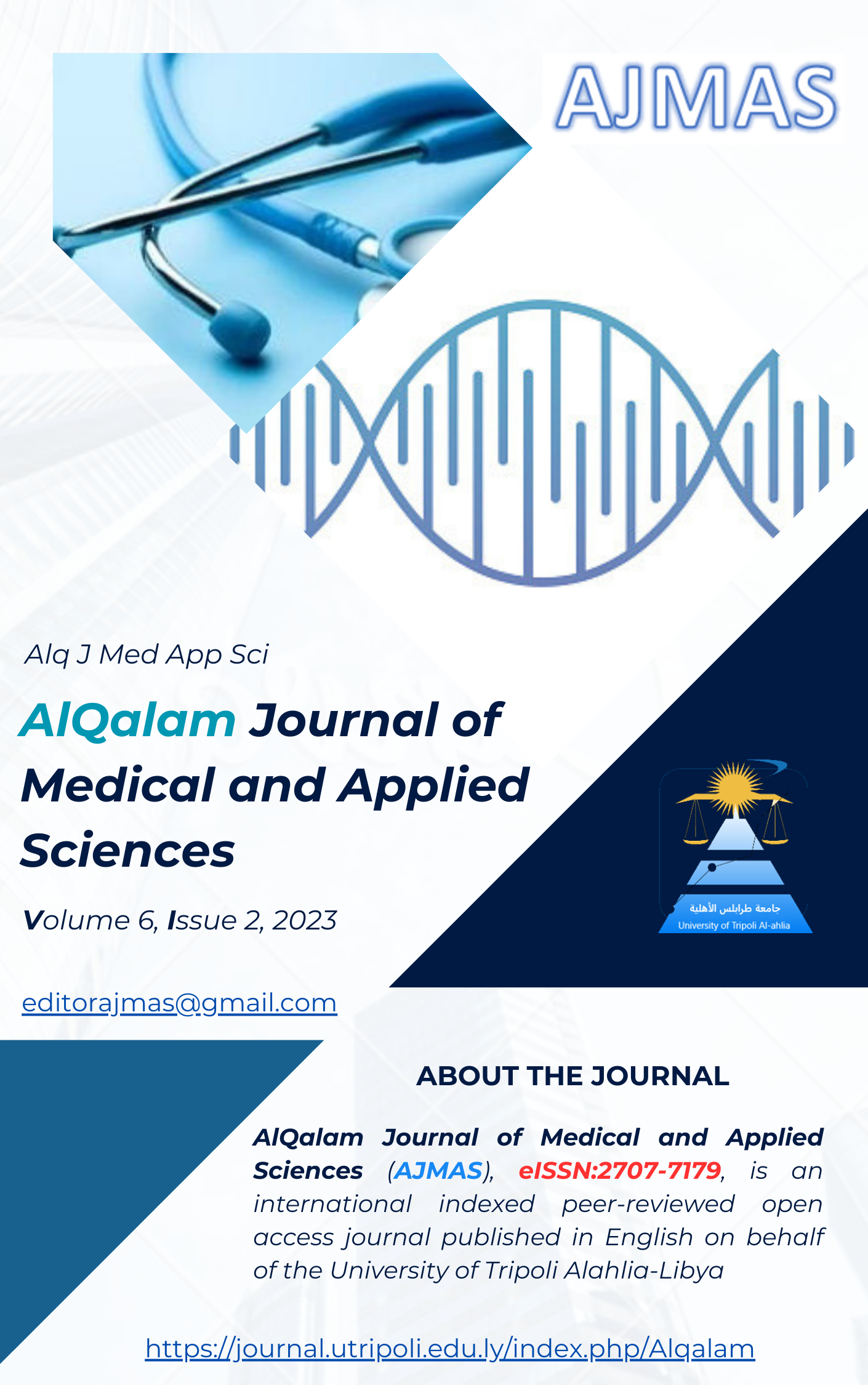 Downloads
How to Cite
Nageia Younis. (2023). Intestinal Obstruction Due to Gastric Duplication: A Case Report . AlQalam Journal of Medical and Applied Sciences, 683–686. Retrieved from https://journal.utripoli.edu.ly/index.php/Alqalam/article/view/383
License
Copyright (c) 2023 Nageia Younis
This work is licensed under a Creative Commons Attribution 4.0 International License.