Patterns and Trend of Contraceptive Uptake Among Users in Kwara State, Nigeria (2018-2022)
Abstract
Background and aims. This study aimed to investigate patterns and trend of contraceptives uptake among users of family planning methods in Kwara State. Specifically, trends, patterns and differentials in Family-Planning (FP) uptake among this group of people across a five-year period were studied. Methods. Data of FP uptake by users from 2018 to 2022 was retrieved from District Health Information System 2 database. Population comprised all female contraceptive users in Kwara state at the study period totaling 155,848. Descriptive statistics and inferential statistics were used to analyze the data. Results. Findings revealed fluctuation in the trend of uptake among users from 2018 to 2022, showing a 126.5% rise from 2018-2019, which fell in 2020, rose by 24,2% in 2021 and fell again in 2022 with the highest number of users recorded in 2021. The region with the highest number of contraceptive users was Kwara-South (41.3%), followed by Kwara-Central (36.2%), while Kwara-North (22.5%) had the least number of users. Overall, the preferred method was the implants though there were differentials in preferences based on regions. Conclusion. The study concluded that there is a significant pattern and trend of contraceptive uptake worth noting contributing to the low CPR in Kwara State. The state government should ensure increased access to information and contraceptive services and also engage in massive public enlightenment on contraceptives use through demand-generation activities. The findings of this study can be used to inform policy makers and health practitioners, in order to create effective strategies to improve CPR in Kwara State.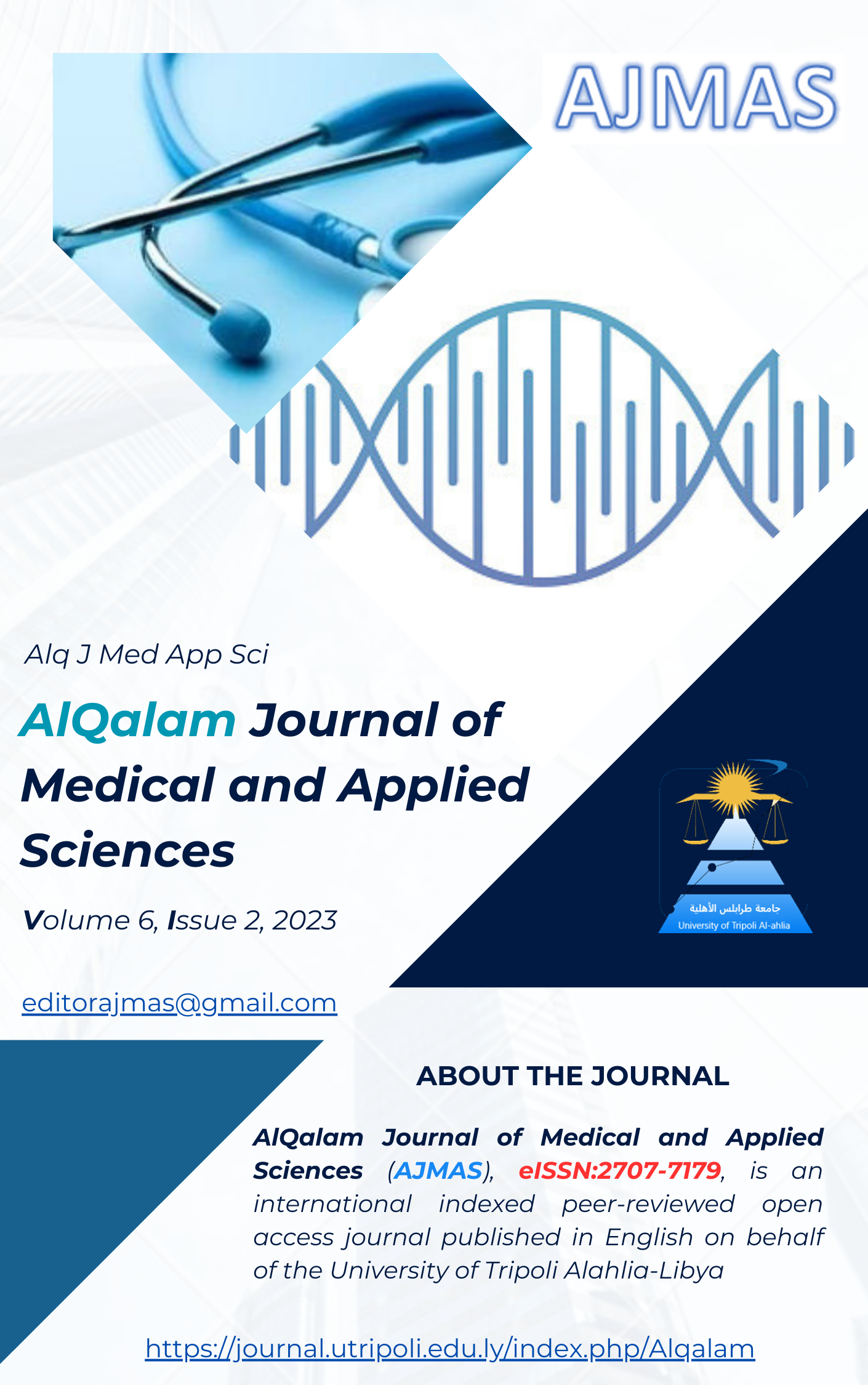 Downloads
How to Cite
Adewale Adefila, Kafayah Jidda, Adebusola Oyeyemi, Adijat AbdulRaheem, Yetade Gabriel, & Emmanuel Oyewale. (2023). Patterns and Trend of Contraceptive Uptake Among Users in Kwara State, Nigeria (2018-2022). AlQalam Journal of Medical and Applied Sciences, 672–682. Retrieved from https://journal.utripoli.edu.ly/index.php/Alqalam/article/view/380
License
This work is licensed under a Creative Commons Attribution 4.0 International License.