Evaluation of Vitamin D Status Among Adult Population in Tripoli Region, Libya
Abstract
Background and aims. Vitamin D deficiency is a pandemic public health concern as it is highly prevalent in all parts of the world. The higher rates of hypovitaminosis in the sunniest areas of the world have been reported including Libya. The study aimed to evaluate the prevalence of vitamin D deficiency among adult population in Tripoli region, Libya, and evaluating some contributing factors including age, gender and obesity. Methods. A cross sectional study was conducted among 293 subjects (129 males and 164 females) whose ages lied between 20-50 years in Tripoli region, Western Libya. Vitamin D levels were biochemically estimated by using enzyme immunoassay method. BMI was calculated for all participants (weight in kilogram / height in meter square). Results. Overall, the prevalence of vitamin D deficiency was 55.63%, out of which 25.58% in males and 79.26% in females, while 19.45% of participants had vitamin D insufficiency (23.25% in males and 16.46% in females). Furthermore, 24.91% of participants had vitamin D Adequacy (51.16% in males and 4.26% in females). The highest prevalence of vitamin D deficiency was in the age group 41- 50 years. The means of vitamin D deficiency were 13.93±3.46and 11.32± 4.16 in males and females respectively, and were statistically difference. Furthermore, there was significant difference in the means of vitamin D levels among the three groups (healthy weight, overweight and obese subjects). Conclusion. High prevalence rate of vitamin D deficiency in Tripoli population, western Libya, and was higher in females than males especially among ages 41- 50 years. Obesity has adverse effects on vitamin D levels which contributes to severe vitamin D deficiency. Adapting proper lifestyle focused on maintaining health weight, sufficient sunlight exposure and increasing dietary intake of vitamin D can reduce the burden of vitamin D deficiency.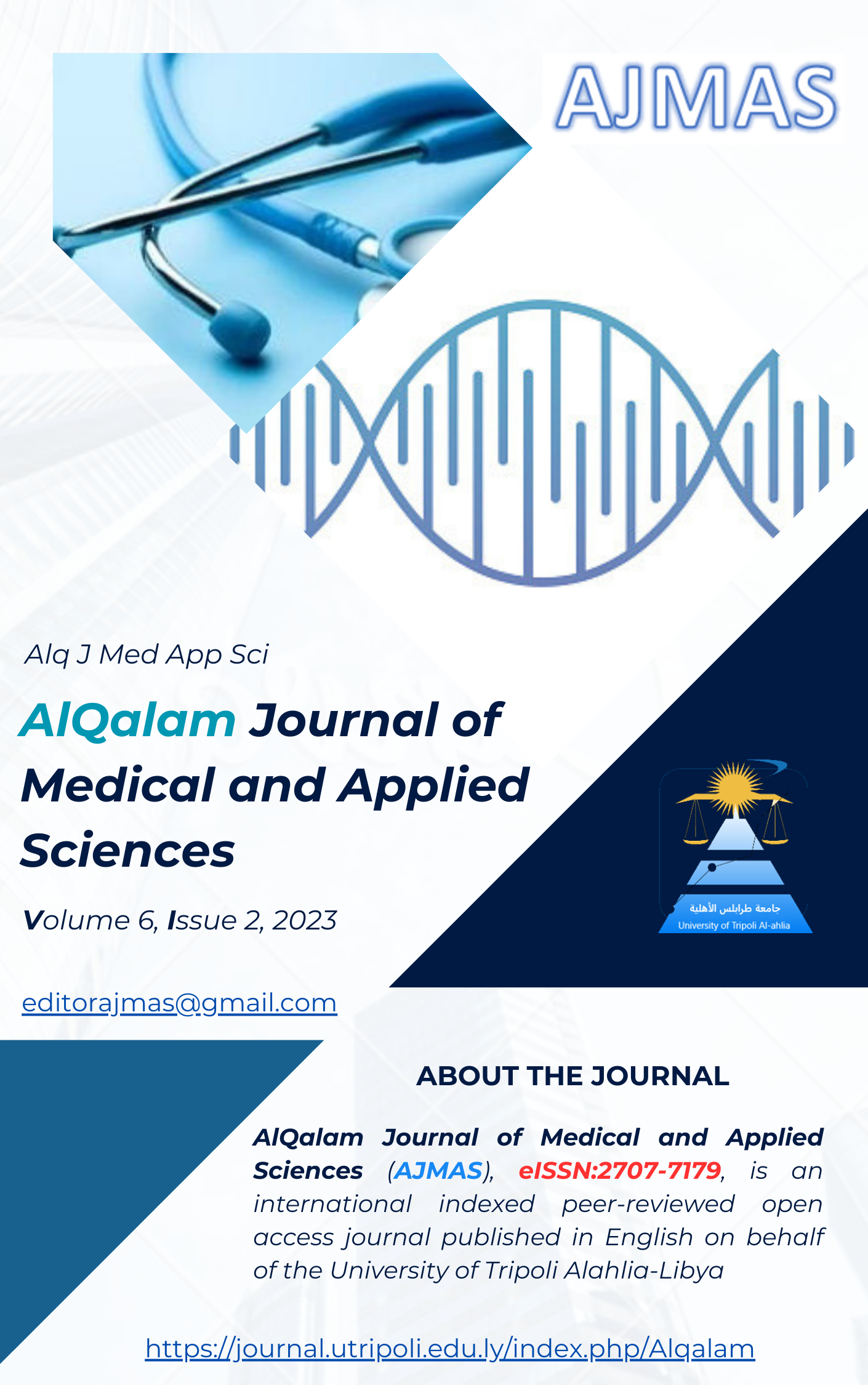 Downloads
How to Cite
Apoajela Ahmed, Manal Amr, Basma Almoner, Moudah Salim, & Saja Abudaber. (2023). Evaluation of Vitamin D Status Among Adult Population in Tripoli Region, Libya. AlQalam Journal of Medical and Applied Sciences, 626–634. Retrieved from https://journal.utripoli.edu.ly/index.php/Alqalam/article/view/368
License
This work is licensed under a Creative Commons Attribution-NonCommercial 4.0 International License.