Prevalence of Some Parasitic Infestations in Lagocephalus sceleratus in Eastern Libya
Abstract
Background and aims. Lagocephalus sceleratus (L. sceleratus) has been listed as one of the 100 "worst invasive fish species" of the Mediterranean Sea. This study was carried out to investigate the prevalence of parasitic infection in L. sceleratus. Methods. During this study, one hundred and ten fish were caught in different locations in eastern Libya from March to May 2022. We examined all fish after dissecting them using gross pathology and direct examination using light microscope. We tracked the prevalence of parasites depending on the region, gender, age, and the affected organs. Results. The result showed that the overall parasitic prevalence was 12(10.91%) Cryptobia iubilans, 3(2.73%), Haplosplanchnida sp. 3(2.73%), and Anisakis sp. (L3) 6(5.45%). Regarding the sexes, the study showed that the prevalence among males and females were 10.71% (6/56) and 11.11% (6/54) respectively. Also, it was noticed that the highest rate of infection with parasites was in the area of Susah 50% (2/4) followed by Talamitha 38.9% (7/18), then Khalij- Al Bambah 18.8%, (3/16), with no infection recorded in Ain El Ghazala. In this study, a number of parasites, two of which termed "Haplosplanchnida" and "Cryptobia iubilans" were found in the intestine, and this is in according to our knowledge is the first study published on the parasitic infection of L. sceleratus in Libya. It has been unknown whether these parasites can cause a disease in L. sceleratus or not, and that needs to be further investigated. Conclusion. L. sceleratus is a new host for some indigenous parasites, providing an additional niche for the success and increase of local populations of these parasites.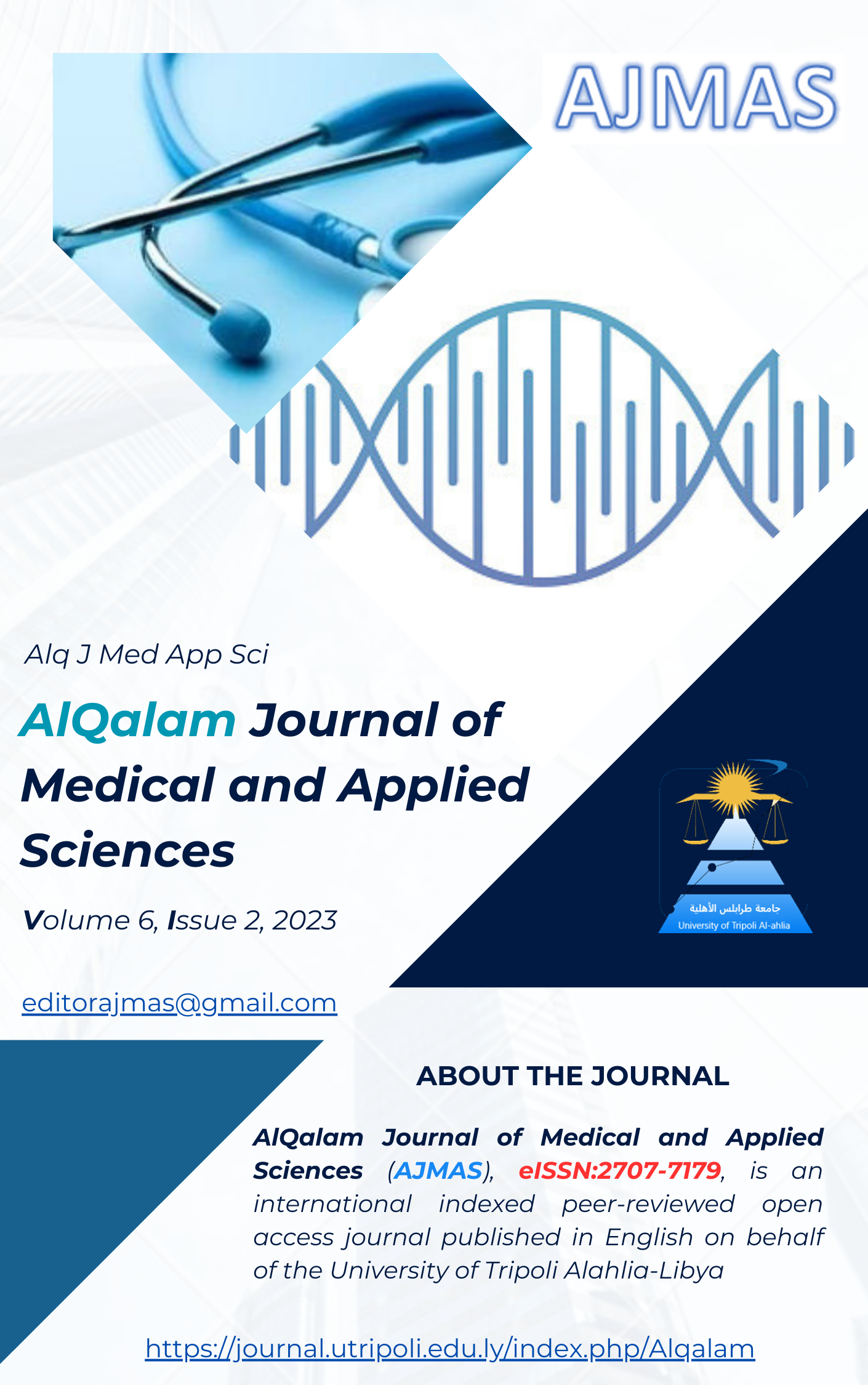 Downloads
How to Cite
Sana Mohmmed, Ahmad Ekhnefer, Abdalbast Fadel, & Monier Sharif. (2023). Prevalence of Some Parasitic Infestations in Lagocephalus sceleratus in Eastern Libya. AlQalam Journal of Medical and Applied Sciences, 608–616. Retrieved from https://journal.utripoli.edu.ly/index.php/Alqalam/article/view/365
License
This work is licensed under a Creative Commons Attribution-NonCommercial 4.0 International License.