Exposure to Fumes from Mosquito Coils Impairs Cardiac Function and Elevates Serum Markers of Inflammation
Abstract
Background and aims. The use of fumes from mosquito coils has been recognized as a malaria preventive measure in rural to local areas in sub-Saharan Africa. The effects of these fumes on cardiac function and serum inflammatory indices are however not yet fully explored. Hence, this study in Wistar rats. Methods. Male animals (n = 40) weighing between 180- 200g were equally divided into 4 groups as follows; Group I was control and animals were not exposed to fumes from mosquito coils. Animals in group II, III and IV were exposed daily, to fumes from pyrethroid-based mosquito coils for 30, 60 and 90 minutes in a modified fume exposure chamber for 28 days, respectively. Thereafter, systolic, diastolic, and heart rate were assessed, while mean arterial and pulse pressure were calculated. Blood samples were also obtained for serum interleukin-6 (Il-6), interleukin-1β (Il-1β), tumor necrosis factor-µ (TFN-µ), and C-reactive protein (CRP), respectively. Results. Cardiac function was impaired to varied extent in the exposure groups as groups II and IV exhibited reduced systolic blood pressure and heart rate while animals in group III had elevated systolic and diastolic blood pressures compared to controls, respectively. Serum markers of inflammation (Il-6, Il-1β and CRP) were elevated (P<0.05) in all exposure groups compared to controls, while TFN-µ was unchanged across all groups. Conclusions. This study suggests that exposure to fumes from mosquito coil for prolonged periods may trigger episodes of cardiac dysfunction and upregulate systemic inflammation mediated mechanisms.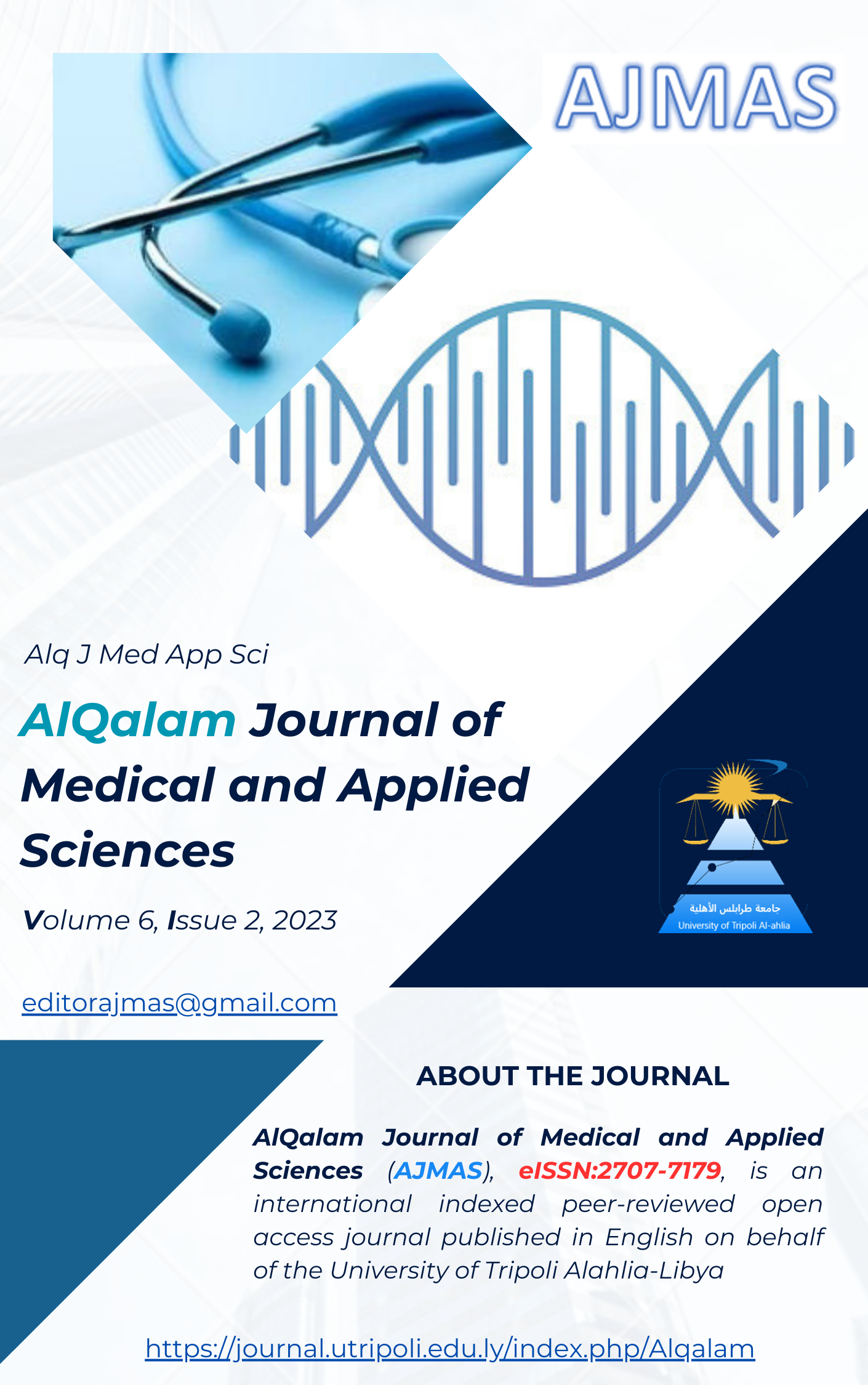 Downloads
How to Cite
Ahmeed A. Idowu, Usman A. Adegoke, Bernard O. Adele, & Abayomi O. Ige. (2023). Exposure to Fumes from Mosquito Coils Impairs Cardiac Function and Elevates Serum Markers of Inflammation. AlQalam Journal of Medical and Applied Sciences, 593–602. Retrieved from https://journal.utripoli.edu.ly/index.php/Alqalam/article/view/363
License
This work is licensed under a Creative Commons Attribution-NonCommercial 4.0 International License.