Epidemiological Study of Gastro-Intestinal Parasites in Selected Areas of Plateau State, Nigeria
Abstract
Background and aims. Human societies have always been challenged by infectious diseases, some of which are caused by helminths and protozoan parasites. One-fourth of the known human infectious diseases are caused by helminths/protozoan groups. Intestinal parasitic infections constitute a public health nuisance in developing countries, with high prevalence rates that continue to ravage mankind as the socio-economic status of the affected populations deteriorates. Investigating the occurrence of these infections is critical since it helps to map out prevention and control strategies for the infections. Methods. This study is a cross-sectional, analytical, quantitative study conducted in parts of Plateau State, Nigeria to study the epidemiology of gastrointestinal parasites. 1257 stool samples were collected from humans and examined by formol-ether sedimentation techniques, and 1257 questionnaires were administered. Results. The prevalence of the gastrointestinal parasites identified in the study were E. histolytica 76(6%), A. lumbricoides 74(5.9%), E. vemicularis 1(0.1%) Hookworm 41 (3.3%), E. coli 6(0.5%), T. hominis 7(0.6%), H. nana 1(0.1%), S. mansoni 10(0.8%), G. lamblia 98(7.8%), T. trichiura 2(0.2%), T. solium 1(0.1%), and socio-demographic factors includes age-group, level of education, employment status, unskilled occupation, and drinking well water, which is potential risk factors. Furthermore, findings in the study showed that human gastrointestinal parasitic infection correlates with lower socio-economic status and poor sanitation conditions, representing a scourge, particularly for the poorest populations. Conclusion. These diseases caused by protozoa and helminth parasites are infestations that may trigger changes in the physical, psychosomatic, and social state of patients, directly interfering with their quality of life.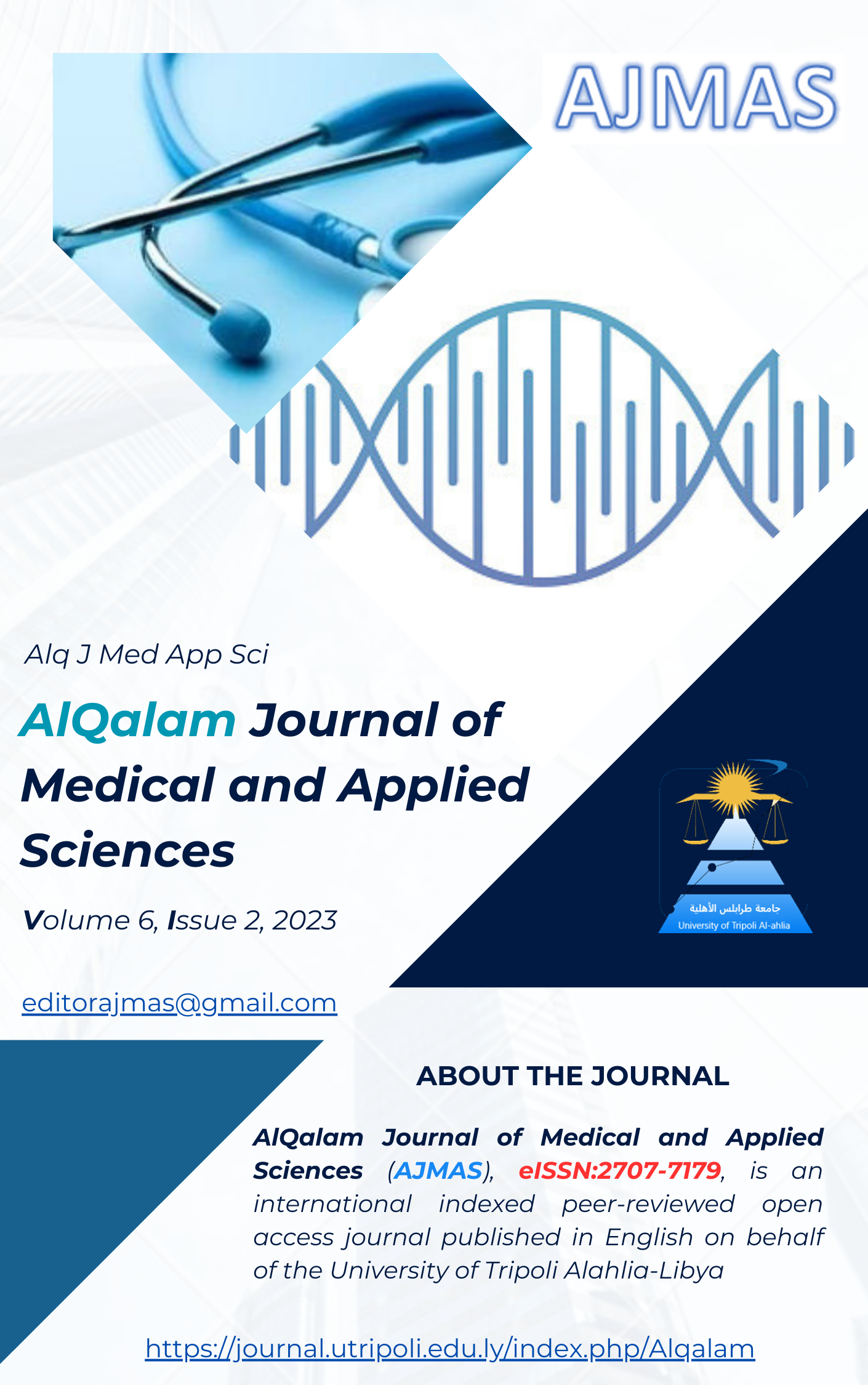 Downloads
How to Cite
Ishaya Emmanuel Naandok, James-Rugu Naomi Nari, Dawet Anthony, Gyang Mark Davou, & Ololade Akintayo David. (2023). Epidemiological Study of Gastro-Intestinal Parasites in Selected Areas of Plateau State, Nigeria. AlQalam Journal of Medical and Applied Sciences, 575–583. Retrieved from https://journal.utripoli.edu.ly/index.php/Alqalam/article/view/361
License
This work is licensed under a Creative Commons Attribution-NonCommercial 4.0 International License.