The Prevalence of Upper Midline Diastema in Benghazi-Libya
Keywords:
Midline Diastema, Orthodontics Treatment, Libyan Patients, Clinical Study.
Abstract
Background and aims. The localized space between central incisors in upper jaw is termed as midline diastema. The midline diastema is typical part of normal dental development during the period of mixed dentition (self-limiting). The continuing presence of the diastema between the maxillary central incisors in adult often is considered an esthetic or malocclusion problem. The aim of this study was to determine the prevalence of midline diastema among a sample of Libyan patients and to find out whether it's more common in males or females. Methods. The present cross-sectional study was conducted at the Department of Orthodontics, Faculty of dentistry, university of Benghazi on a randomly selected 562 individuals (149 males and 413 females) to investigate the prevalence of midline diastema among them. The measurements in current study were carried out directly on patient's examination. The age of the subject's study ranged from (16-32 years; average 24 years). Results. A total of 562 patients were screened, among which midline diastema was present in 5.34% (30) of the cases. Conclusion. From 562 OPD patients in orthodontic Department patients, only 5.34% had midline maxillary diastema, while 94.66% were normal means without midline maxillary diastema. With no statistical difference between males and females.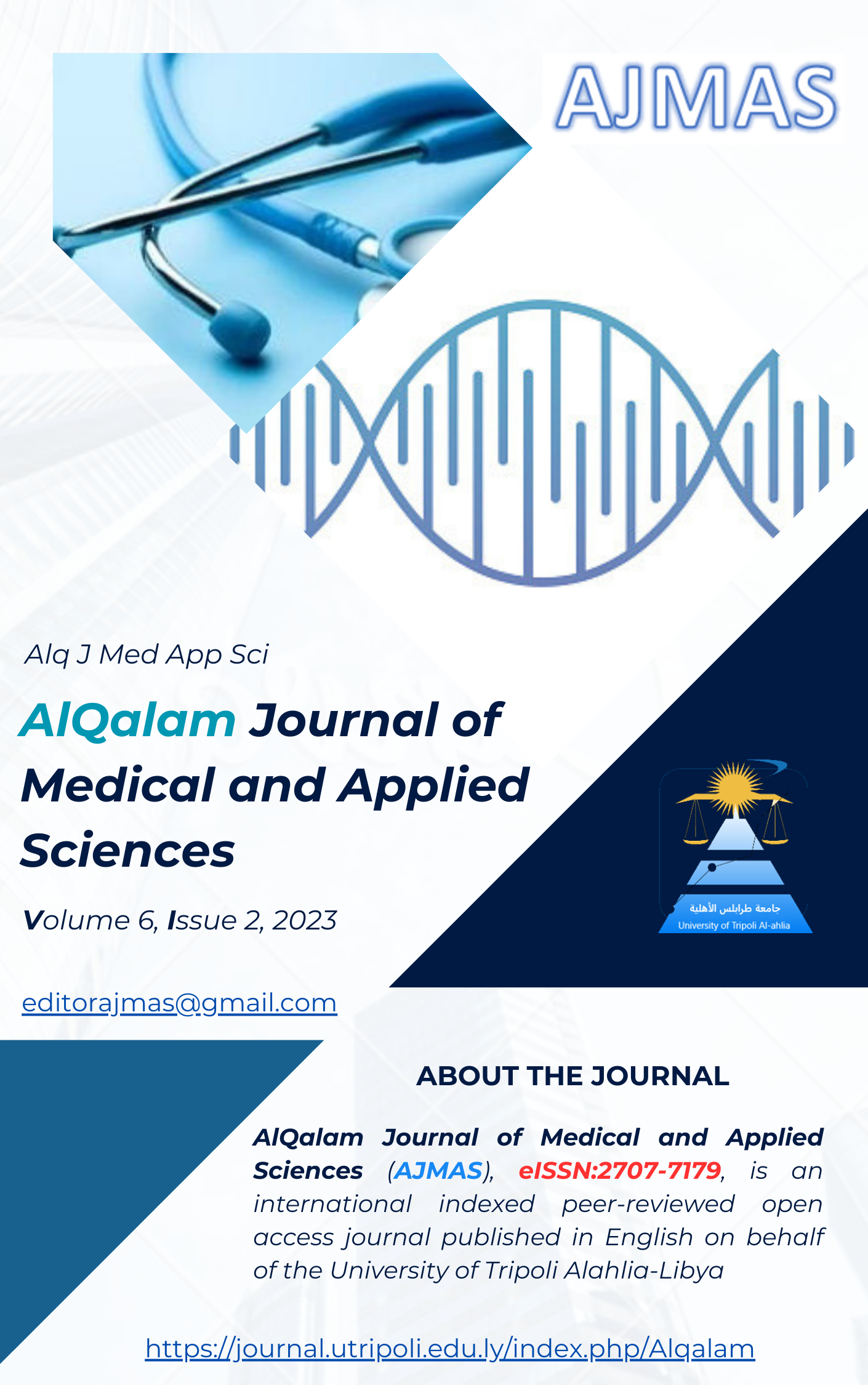 Downloads
How to Cite
Fathia Hammad, & Huda Elmehdawi. (2023). The Prevalence of Upper Midline Diastema in Benghazi-Libya . AlQalam Journal of Medical and Applied Sciences, 441–443. Retrieved from https://journal.utripoli.edu.ly/index.php/Alqalam/article/view/321
License
Copyright (c) 2023 Fathia Hammad, Huda Elmehdawi
This work is licensed under a Creative Commons Attribution-NonCommercial 4.0 International License.