Effect of Resin Cement Type and Micro-Shear Technique on Bond Strength to Hybrid Ceramic Material
Keywords:
Resin Cement; Micro-Shear Technique; Bond Strength; Hybrid Ceramic
Abstract
Background and aim. Bond strength is highly influenced by micro shear testing procedures and the types of resin cement used, however information on these factors is not clear. This study was aimed to evaluate the influence of the micro shear technique (Starch-based templates and Taygon tubes) and the type of resin cement (Adhesive and self-adhesive) on bond strength to Vita Enamic. Methods. An Isomet saw was used to cut an 8-slice block of Vita Enamic. According to the type of resin cement used to attach the ceramic specimens (n=4), the specimens were split into two groups: Group 1 (Adhesive resin cement), and Group 2. (Self-adhesive resin cement). Later, each group was split into two subgroups based on the method used to produce the specimens (n=2): subgroup A (Starch-based template approach), and subgroup B. (Tygon tube technique). Each slice of the Vita enamic had five micro cylinders of either type of resin cement glued to it. Utilizing a universal testing machine, micro-shear bond strength (SBS) was measured (Intsron 3345, BOSTON, USA). A two-way ANOVA test was used to tabulate and statistically evaluate the data. Results: There were no discernible differences between the adhesive and self-adhesive resin cement. However, when compared to the Tygon tube technique, the starch-based template technique produced statistically significantly higher SBS values. Conclusion. The micro shear bonding test findings from the starch-based template technique were more accurate.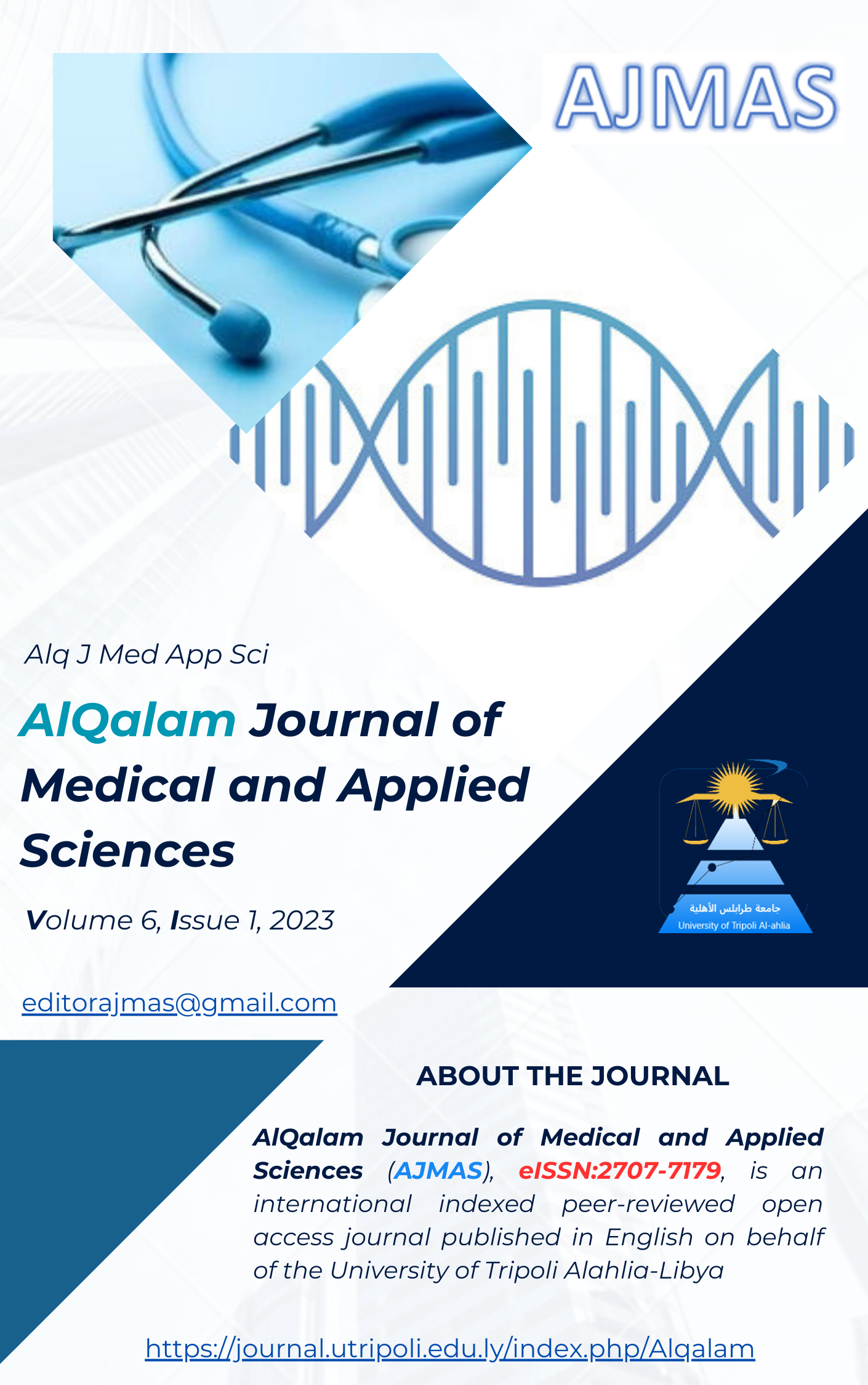 Downloads
How to Cite
Hend Elkawash, Abouthar Gebril, & Muna Farag. (2023). Effect of Resin Cement Type and Micro-Shear Technique on Bond Strength to Hybrid Ceramic Material. AlQalam Journal of Medical and Applied Sciences, 22–26. Retrieved from https://journal.utripoli.edu.ly/index.php/Alqalam/article/view/224