Anterior Segment Optical Coherence Tomography Angiography Findings in Intraepithelial Ocular Surface Squamous Neoplasia
Keywords:
Squamous Neoplasia, Optical Coherence Tomography, Intraepithelial, Anterior Segment, Angiography.
Abstract
Background. Ocular surface squamous neoplasia (OSSN) is the most common non-pigmented tumor of the ocular surface. Anterior segment optical coherence tomography (AS-OCT) and AS-OCT angiography (OCTA) are innovative and non-invasive imaging tools. However, their application in OSSN is still uncommon and not well described in the literature. We aim to describe the imaging characteristics of AS-OCT and AS-OCTA in a case of intraepithelial ocular surface squamous neoplasia. Observation. A 56-year-old female patient was presented to our department because of redness and foreign body sensation in both eyes. Eyelid malposition and superficial punctate keratitis were noted in both eyes. Examination of the left eye revealed a temporal conjunctival gelatinous lesion covering the cornea. AS-OCT of the LE's showed a hyperreflective superficial lesion and a sharp demarcation hyporeflective line between the lesion and the underlying normal cornea. OCTA confirmed the vascularised but not extensive nature of the lesion. Conclusion. AS-OCT and AS-OCTA are promising tools to aid in the identification and characterization of OSSN and its vascular network, and further studies should investigate their clinical utility.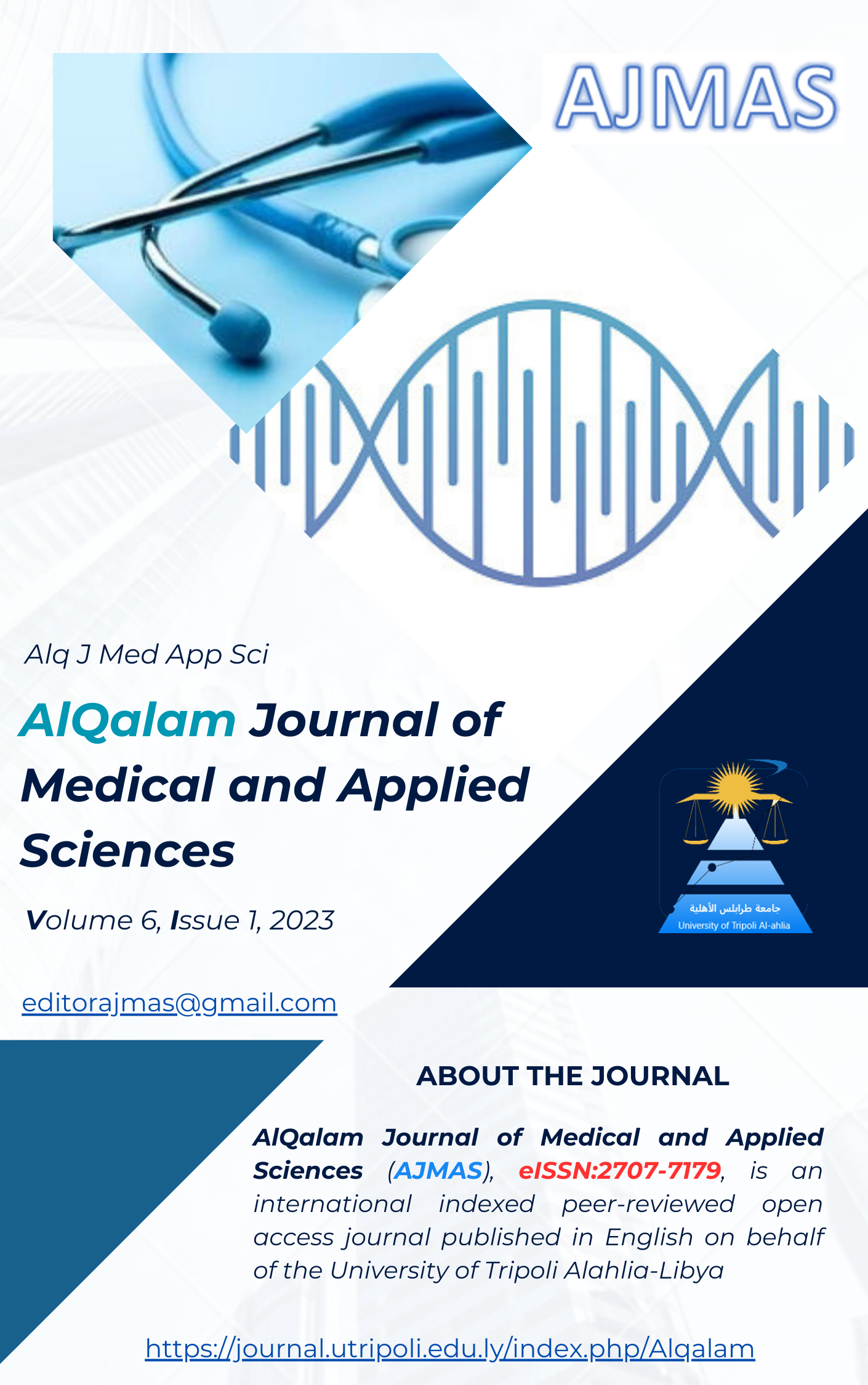 Downloads
How to Cite
Safa Ben Aoun, Sonda Kammoun, Yosra Maalej, Takwa Sammouda, Mariem Lachtar, & Amira Trigui. (2023). Anterior Segment Optical Coherence Tomography Angiography Findings in Intraepithelial Ocular Surface Squamous Neoplasia. AlQalam Journal of Medical and Applied Sciences, 142–145. Retrieved from https://journal.utripoli.edu.ly/index.php/Alqalam/article/view/196