Histopathological Alterations in Liver of Male Rabbits Exposed to Deltamethrin and the ameliorative Effect of Folic Acid
Keywords:
Histopathological, Ameliorative, Deltamethrin, Folic Acid
Abstract
Aims: Deltamethrin is classified as low mammalian synthetic pyrethroids that is used in a wide range in the agriculture field, animal's husbandry, being applied to public health. However, some reports have shown that it has been implicated in a serious noxious effect on non-targeted species animals and even human. Hence the current study was aimed to demonstrate deleterious effect of deltamethrin on the hepatic tissue of adult male rabbits on long term exposure, along with examine the role of folic acid in minimizing the tissue toxicity. Methods. Twenty adult male New-Zealand rabbits were divided into four groups: first group served as control. Deltamethrin treated group were administrated 1.28mg/Kg of insecticide orally by gastric gavage for 12 weeks. Folic acid group received folic acid 5mg/kg body weight. Combination group received both Folic acid with deltamethrin. Results. Deltamethrin induced cellular alterations in treated rabbits in which hepatocytes demonstrated hydropic degeneration, cellular features of necrosis including loss of cell membrane integrity, pyknosis and karyolysis. In addition, other the histological changes within portal area in the form of dilated, congested blood vessels and periportal lymphocytic infiltration were also observed. Carbohydrates staining methods (PAS reaction) was confirmed pathological changes such as destruction of cell membrane and a moderate decrease of amount of glycogen in the periportal area. Masson's trichrome stains showed that there was a portal and periportal fibrosis (NASH) stage 1 induced by deltamethrin. Similarly, group treated with insecticides along with giving protective antioxidants folic acid showed marked deposition of collagen in the portal area with presence of fibrous bridges between hepatic lobules. Conclusion. It can be concluded that deltamethrin induced hepatic damage to the normal liver architectures as well as there was no protective role of folic acid in minimizing toxic effect of deltamethrin.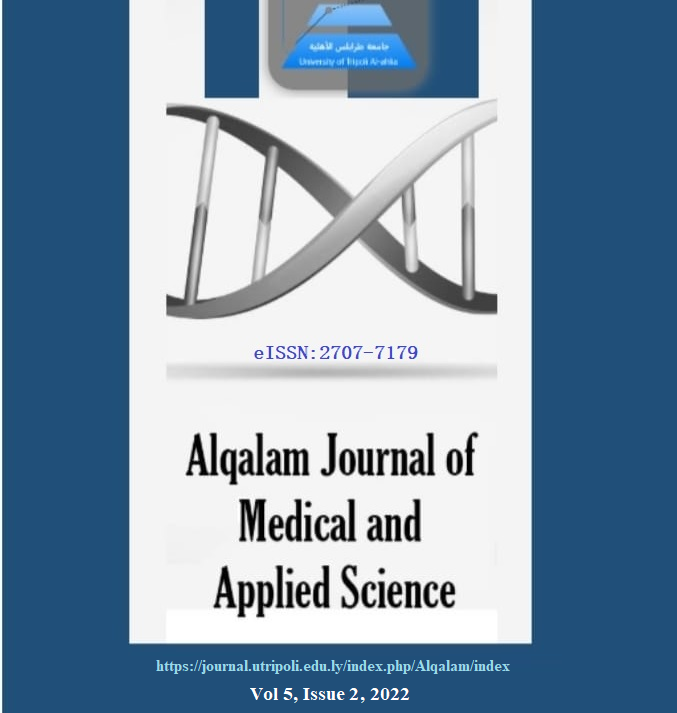 Downloads
How to Cite
Najat Mohammed, Huda Hassan, Alnagy Ali, Fayrouz Khaled, & Sumia Mohamed. (2022). Histopathological Alterations in Liver of Male Rabbits Exposed to Deltamethrin and the ameliorative Effect of Folic Acid . AlQalam Journal of Medical and Applied Sciences, 5(2), 454–460. Retrieved from https://journal.utripoli.edu.ly/index.php/Alqalam/article/view/178