Bioremediation of Crude Oil Residues in Libyan Agricultural Lands
Keywords:
Bioremediation, Hydrocarbon, Crude Oil, Soil Contamination, Paenibacillus Macerans
Abstract
Background and aims. Libya like other most of the oil-producing countries in the world suffers from many environmental problems that negatively affect the balance of the ecosystem. Petroleum hydrocarbons are the most important of these problems and the main pollutants that increase the damage to the ecosystem, whether the pollution of waters seas, and oceans, which affected biodiversity, which also reached large areas of agricultural land, which led to the deterioration of biodiversity. The microbial treatment of these petroleum hydrocarbons is one of the economic and environmental methods trends currently used, where the bioremediation technology using bacteria has proven to be a safe, effective, and environmentally friendly method compared to other chemical methods. Thus, it can be considered one of the best techniques for dealing with soil contaminated with oil and replanting it again with crops. Methods. This experiment was conducted in wooden boxes to evaluate the role of Paenibacillus macerans in the disinfection of agricultural land affected by petroleum hydrocarbons. Barley seeds were grown in contaminated soil with a concentration of 10% of crude oil, and bacteria were added at sowing, and 20 days pre-sowing, compared to control (uncontaminated soil). The germination and growth characteristics of barley seedlings were studied as one of the indicators of the ability of Paenibacillus macerans bacteria to disinfect biodegrade crude oil pollutants. Results. The results showed the positive effect of the bacterial strain and the ability to biodegrade petroleum hydrocarbons and the success of barley cultivation in contaminated soil up to a concentration of 10% of these petroleum residues. Conclusion. Bacteria Paenibacillus macerans has ability to decompose petroleum pollutants resulting from the extraction and transportation of petroleum oil and its hydrocarbon derivatives. This allow us to successfully cultivate contaminated farmland again.
Cite this article. Allafe M, Omar E, Abdullah A, Mohammed F. Bioremediation of Crude Oil Residues in Libyan Agricultural Lands. Alq J Med App Sci. 2022;5(2):498-502. https://doi.org/10.5281/zenodo.7191167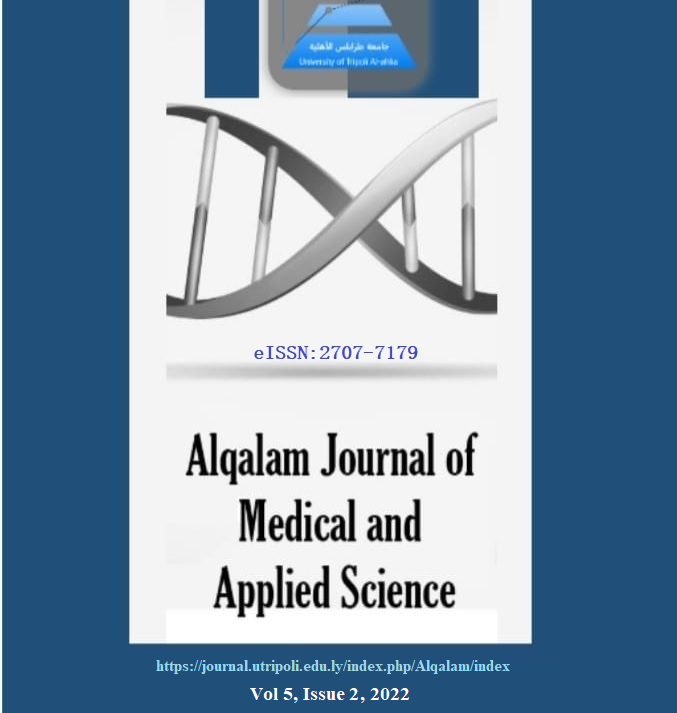 Downloads